Gumbaynggirr Language - Liz Hegedus
Giinagay Ngujawiny -Hello You Mob,
Stage 2 are currently learning about 'Songlines' and how they are important to Indigenous culture. Songlines are the responsibilities of the Aboriginal people of Australia. Songlines connect the Aboriginal people with the Dreamtime and how they believe the world was created. Songlines tell the story of the Australian landscape. It is believed in the Dreamtime, ancestral spirits created songlines, also known as 'Dreaming Tracks' to create routes through the landscape. The songlines relate to landscape, landmarkers, animals, plants, stories, songs, dance, sky and paintings. Through these creations the bond between Aboriginal people, Dreamtime and songlines are sacred and strong.
Stage 2 learnt all about the 'Songline' story 'The Bush Plum Dreaming.' This is a big story that spreads right across the western and central deserts from Lajamanu and Warlpiri country to the Utopia homelands. The Bush Plum Dreaming or Creation Story from the Utopia region goes like this: "In the Dreamtime winds blew from all directions carrying the bush plum seed to the artists' ancestral lands. The first bush plum of the Dreamings grew and bore fruit and dropped more seeds. Many winds blew the seeds all over the Dreaming lands."
Stage 2 then had to create their own version of 'The Bush Plum Dreaming' by drawing their version how they vision the 'Bush Plums' growing on country. The drawings are wonderful, there are great artist in stage 2. Well done!
Darrundang Ngiinda -Thankyou Miss Liz Hegedus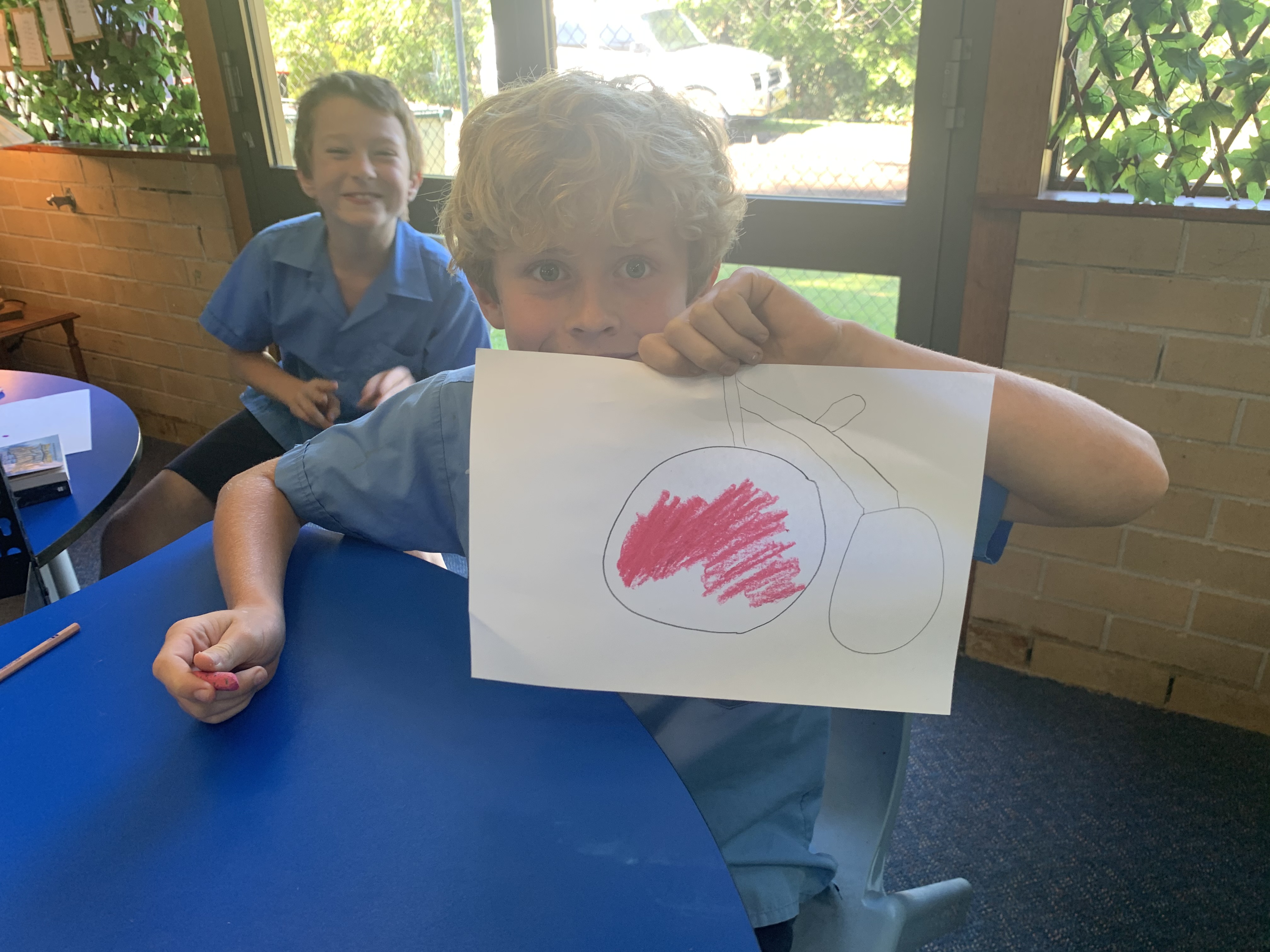 Leader of Curriculum - Hannah Gorman
NAPLAN Year 3 and 5 2021
Week 4 - Tuesday 11 May & Thursday 13 May 2021
All Year 3 and Year 5 students will participate in the NAPLAN tests next week on Tuesday 11 May and Thursday 13 May. Remember that the best way you can help your child prepare for NAPLAN is to reassure them that NAPLAN tests are just one part of their school program, and to advise them to simply do the best they can on the day.
NAPLAN Public Demonstration Site
You may wish to use the public demonstration tests to familiarise yourself and your child with the type of questions and related functionalities available in the NAPLAN Online assessment.
Some of the key features include a range of question types, onscreen tools, timers and interactive navigation. Students are encouraged to try all the tests for their year level to practise the complete range of question formats available in the online assessment so they are comfortable with the format of the online test.
NAPLAN Results
Schools generally receive their students' NAPLAN reports from mid-August to mid-September, depending on their state or territory test administration authority. The school will notify you when the reports are being sent to your home. The same report format is used for every student in Australia.
Weekly Merit Awards
Congratulations to the following students who received a Merit Award this week.
Kindergarten
Byron Brockwell for using his whole body listening skills when sitting on the floor. Skyla Coelli for answering in full sentences.
Stage 1
Sophie Pole for her fantastic effort in counting during EMU. Mitchell McCann for becoming more confident in sharing his ideas and thoughts during class discussions. Heath Gilmore for always engaging in class discussion and giving his best effort. Baden Ballard for learning to express his emotions in a calm manner.
Stage 2
Rachael Savins for her positive attitude to learning. Pippa Fennessy for her positive attitude to learning and for her focus on class tasks. Robert Montford for his improved focus on class tasks and his completion of tasks. Darcy Smith for his excellent attitude to learning. Skye Brennand for her attention to instructions during learning time. Kruze Colby for his excellent attention to learning. Sheen Thrupp for his engagement and insightful input during our Mathematics topic on Mass. Ryan Smith for always being thoughtful and kind. Demonstrating Christlike behaviours towards other class members. Jackson Grieve for being an encouraging and supportive peer reading mentor. Matthew Fletcher for being an encouraging and supportive peer reading mentor.
Stage 3
Sophie Van der Vlist for her act of generosity in sharing her time and skill to serve the St Joseph community. Brendan Rielly for his consistent contribution to our class meeting. Emily Hyde for showing so much humility when sharing her show entries with the class.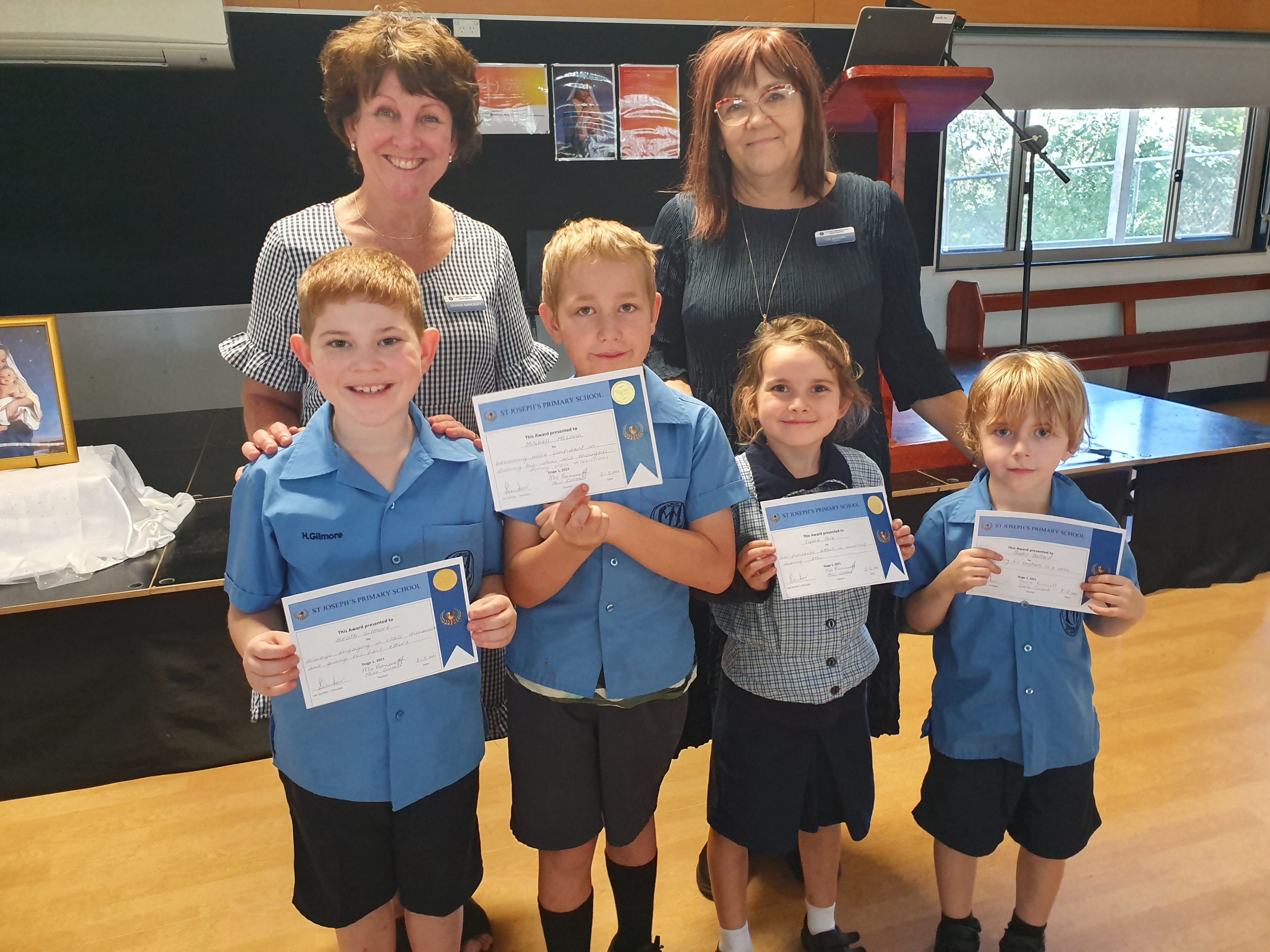 Leader of Catechesis - Joe Stewart
Confirmation
The Sacrament of Confirmation will be celebrated in our Parish on the evening of Friday 23 July at 6:00pm at St Mary's Church Grafton. This will be a celebration involving children from The Parish of the Clarence Valley.
Please note this date has been set by Bishop Gregory Homeming. Bishop Gregory will meet the candidates and parents at 5:30 pm before the Mass which starts at 6:00 pm.
An enrolment form will be sent home to eligible students in Years 3 to 6. Lessons for the candidates will commence on Thursday, 13 May. Please contact the school office if you require further information.
Library/Book Club Coordinator - Anna Smidt
National Simultaneous Storytime 2021
At 11 o'clock on Wednesday 19 May, children from all over Australia will once again stop to read together. This year's storytime is going to be out of this world!
The book chosen this year is called "Give Me Some Space" written by Philip Bunting and will be read from space by the astronaut Dr Shannon Walker from the International Space Station!
To really get into the spirit of the day, students will be invited to dress up with the theme being SPACE. Miss Davies will be creating space themed masks during art for students to wear if they would like.
The canteen committee are currently planning a special space themed lunch pack to keep us energised for the day. This lunch will need to be pre ordered and a separate note will be sent home by the canteen soon with all the details.
Thank You
Marnie Clark is a regular visitor to our school and while she was in and out of classrooms last week, she noticed we were looking at ANZAC Day during history. In her past career Marnie was in the Air Force and very kindly offered to bring in some medals, uniforms and lots of amazing stories to share with Stage 1 and Stage 3.
Thank you Marnie for taking the time to bring history alive for us.
Book Club
Issue 3 of Book Club is out now. If you would like to order please return these to school by Thursday 6 May.
Leader of Evangelisation - Donna Bancroft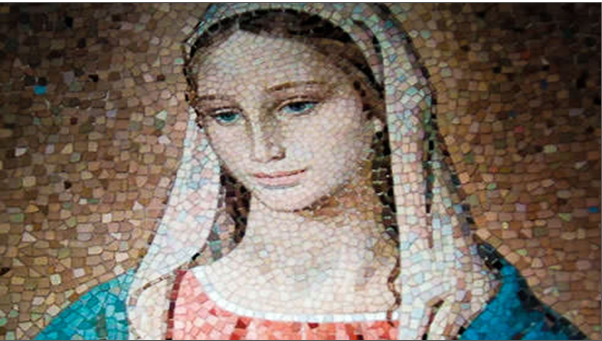 Mother's Day Liturgy
St Joseph's School Mercy Hall, Friday 7 May 10.00am
On Mother's Day, let us pray for all our mothers. And let us remember that we have a Mother in heaven, the Blessed Virgin Mary. We continue to rejoice with her during this Easter season. May the Mother given to us by Christ on the cross be ever at our side!
On Mother's Day, we remember with gratitude and affection our mothers, not only through material gifts, flowers, or cards, but also, and more importantly, by our prayers for them. We thank God for the gift of our mothers who care for us, protect us, teach us, and love us. Many pass on the precious gift of faith to us. We remember all our mothers, living and deceased. We thank them for their generosity and self-giving love.
Mary is a model for all mothers. Pope Benedict XVI said that "Mary is the image and model of all mothers, of their great mission to be guardians of life, of their mission to be teachers of the art of living and of the art of loving."
Mary is our model of faith who adhered to God's word throughout her life. She is our model of hope who stood firm at the foot of the cross. She is our model of charity who went in haste to visit and help her cousin Elizabeth. Her maternal love for her Son Jesus extends to us, her spiritual children. She is our sure guide to Gospel perfection.
Uniform Shop
U Design Schoowear BrewHouse Village Gate 4
Opening hours from 19 April 2021 Monday - Friday 10.00am to 4.30pm Phone 6643 2989
K-2 Instructional Leader - Larissa Deleiuen
Parent Partnership Evening - Writing
What an exciting and engaging evening of collaboration, learning and celebration of our community we had Tuesday night. It was so wonderful to see the faces of both students and families enjoying writing together.
We would love your feedback to ensure future Parent Partnership events reflect your own and your child/children's needs and wants. If you haven't already done so, please scan the QR code below and complete the feedback form. It would be very much appreciated.
Assistant Principal - Anne Forwell
Walker Learning in the Primary Years
We have already started to utilise our $30 000 grant from Schools Plus Australia to further our understanding and implementation of Walker Learning. This term Years 3-6 have started to use a communication board and have focus children in their rooms. The communication board displays the focus children roster, the key learning intentions and other relevant classroom information.
Each focus student shares something about their learning at the start and end of the day. They also share their learning goal and how they are going with this while the group are invited to ask questions, contribute ideas and support. During the day, the teacher spends some additional time with the focus children for that day.
Dental Visit
A reminder that in week 10 of this term we are having a visit from trained and qualified dental staff from Australian Dental Health NSW. The purpose of this school initiative is to provide an opportunity for your child's teeth to be checked if you provide consent. Permission forms have already been sent home. Please return the form by Monday 10 May if you would like your child to participate.
Canteen Roster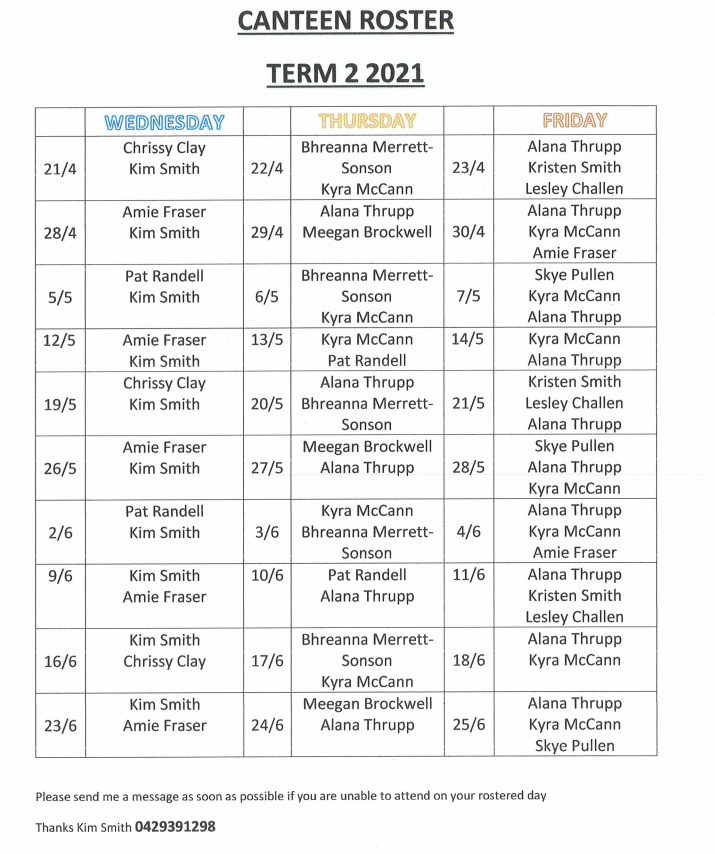 Principal's Message
Dear Parents and Carers,
Our community is still buzzing with enthusiasm and celebration of our Parent Partnerships Writing Workshop!
There were 98 people in Mercy Hall on Tuesday night which shows the dedication of you, the parents, carers and staff of our school community.
Everyone was writing, smiling and engaging with each other. The evaluation forms indicated that the night was successful. It is not too late to send in your opinions of how the night went. The main feedback we would welcome (we want to hear about anything you would like to say) is:
What did you enjoy about the night?
What other topics would you like us to cover in the future?
Did the time the event started suit you?
Any other feedback:
Whether you came or were unable to come to this week's writing workshop, please feel very welcome to come to our second wokshop in June, where we will talk more about how we teach writing in schools.
I would like to sincerely thank every staff member for attending the night and assisting the children with the writing at the workshop. Many of the staff gave up their own time to assist the setting up of the hall, the printing of the booklets, the making of the 'showbags' and the organising of afternoon tea and pizza!
I am hoping there will be more events that will give us the opportunity to grow together as a community.
With every good wish, Lee Denton Principal Masters of Education (Leadership)
School Events & Dates
TERM 2
WEEK 3
Friday 7 May - Mother's Day Liturgy, Mercy Hall 10.00am
Friday 7 May - Mother's Day Stall
Sunday 9 May - Mother's Day
WEEK 4
Monday 10 May 2.15pm - 2.45pm School Assembly
Tuesday 11 May - Year 3 & 5 NAPLAN
Thursday 13 May - Year 3 & 5 NAPLAN

WEEK 5
Monday 17 May 2.15pm - 2.45pm School Assembly
WEEK 6
Monday 24 May 2.15pm - 2.45pm School Assembly
Drama and Voice Tuition
If your child would like tuition in drama or voice please contact Maree Hickson on 0421 656 019
School Notes
Sport Coordinator-Emma Davis
Term 2 School Sport
This term St Joseph's was successful in receiving a Sporting School Grant. These grants are given out to schools to assist with the costs of running school sport programs. This term all students will be participating in a lawn bowls program called Rookie Rollers. This program is designed to enable school children to participate in an engaging format, which is both fun and inclusive. Students will learn the basic skills of lawn bowls using equipment and activities designed for their age group.
This program is also being supported by the South Grafton Ex-servicemens Club. They are providing their bowling green for the school to hire free of charge. The funding will be used to pay for the coaches, equipment and transport costs associated with the program.
Students will participate in the program each Wednesday for 4 weeks commencing Wednesday of Week 4.
Diocesan Winter Sports Trials
Congratulations to Archie Steel and Nicholas Beard who represented the school at the Lismore Diocesan Winter Sports Trials
Weekly Merit Awards
Congratulations to the following students who received a Merit Award this week.
Kindergarten
Maddelyn Rogers for her positive start to her learning journey at St Joseph's. Rubin French for using one to one counting strategies successfully to identify how many are in a collection. Finn Lihou for identifying smaller words within larger words to assist him when spelling.
Stage 1
Pippa Bennett for her enthusiasm to all classroom tasks. Braxton Metcalfe for applying himself to the writing task with confidence. Xavier Alford for his fantastic explanation about odd and even numbers. Elsie-Maree Harris for learning to show respect to her classmates by waiting her turn to share her thoughts during discussion time.
Stage 2 Isla Johnson for producing some great persuasive writing during our class 'cold write.' Aidan Knox for producing some great persuasive writing during our class 'cold write.' Bradley Esterhuizen for consistent class participation and task engagement. So proud of you Bradley! Bonnie Shoesmith for her contribution during class reflection time and producing a great artwork of 'Anzac Ted.'
Stage 3
Eve Pullen for showing enthusiasm towards her own and her peers learning success. Zylan Dobra Garrett for willingly sharing his mistakes during mathematics to help further his own understanding. Lily Barrett for her active participation when discussing our learning intentions. Eli Rogers for a successful first week back at St Joseph's. Welcome back Eli.
Leader of Catechesis - Joe Stewart
Proclaim Staff Day Wednesday 5 May (Pupil Free Day)
Proclaim Lismore is aimed to enhance and strengthen the foundations of Catholic education. Next Wednesday 5 May every school in the Lismore Diocese will participate in this staff day to ensure that Catholic Education, and our school, continues to be truly Catholic. The day will ensure that we are a place of Evangelisation, achieve high levels of Catholic religious literacy and practice and are led by staff who will contribute to these goals.
"If ever there was a time that we need to be clear about our purpose and the distinctiveness of our work in Catholic Education, your work in Catholic Education, then that time really is now." Dr Anne Graham.
Again we thank you for supporting this Staff Development Day.
Library/Book Club Coordinator - Anna Smidt
Writing Wall
At St Joseph's we are all writers and we are so keen to show off our talents. In the library at the moment we have on display some creative writing by Stage 1 and 2. If you have the opportunity, pop in and have a read, I guarantee you will be thoroughly entertained.
Book Club Issue 3 of Book Club is out now! If you would like to place an order please do so by sending your orders to school by Thursday 6 May.
Meet Leigh Hobbs
Leigh Hobbs is an incredibly popular artist and author of childrens books and TV series with characters Old Tom, Horrible Harriet and Mr Chicken. Family and friends are invited to meet Leigh at the Grafton Regional Library on Thursday 29 April between 5.30 and 6.30 for a fun and creative evening. This is a free event.
Leader of Evangelisation - Donna Bancroft
Catholic Schools Week
Catholic Schools Week's focus is centred on 'Faith in the Future', the theme of the 200 Years Celebration of Catholic Education in Australia. The theme reflects the core purpose of Catholic Education to form students in their faith, and to provide an education that enables our graduates to make a meaningful contribution to the world.
There will be a Mass commencing at 12.00 noon at St Mary's Church Grafton for our Year 6 School Leaders and School Captains on Friday 30 April. McAuley Catholic College has kindly offered to provide bus transport to and from the Mass.
At the conclusion of the Mass, student leaders from St Joseph's Primary School, St Mary's Primary School and McAuley Catholic College are invited to lunch at the Mercy Centre Grafton, to foster student leader relationships within our Catholic School community.
St Joseph's School Captains, Jason Burling and Isabelle Pye, have also been invited to attend a Sister's of Mercy Summit before the Mass commences. We look forward to them sharing their experiences with our school community upon their return at next week's assembly.
At the same time as the Mass held at St Mary's Church, there will be a whole school Catholic Schools Week liturgy at St Joseph's Primary School in our Mercy Hall to pray in thanksgiving for 200 years of Catholic education, and with great faith in the future of Catholic education. Please come and join us at 12.00pm as we celebrate Catholic Schools Week. You are most welcome.
Uniform Shop
U Design Schoowear BrewHouse Village Gate 4
Opening hours from 19 April 2021 Monday - Friday 10.00 am to 4.30 pm Phone 6643 2989
K-2 Instructional Leader - Larissa Deleiuen
Walker Learning
What a fantastic start to Term 2 Kindergarten and Stage 1 have had! The students entered their classrooms after returning from the holidays with their eyes wide to the new and engaging learning areas their teachers had been setting up in the holidays. Each learning space was carefully planned to link with all key learning areas the students are currently learning about. Take a look at the areas in action below!