Term 2 Week 2
Principal's Message
Dear Parents and Carers,
With the relaxing of some of our Covid restrictions, it has been wonderful to see so many of you in the morning as you drop off your children. There has been much excitement this week with the commencement of Breakfast Club. Thanks must go to Mrs Hughes for organising (with the assistance of donations and volunteers - Kyra Lee McCann, Terri-Anne Rogers, Leisa Grieve and Ashleigh Pole) for organising this wonderful service for Mondays, Tuesdays and Wednesdays each week. This is a free service and is available to all students.
ANZAC Day Commemorations
I was so proud of our representatives who attended the ANZAC Day march last Sunday. St Joseph's had more volunteers marching (percentage wise) than many of the other schools showing our strong community involvement here.
The drum band did us proud and the event commentator gave them a special mention and thanks at the end of the service. Mr Joe Stewart gives up his time every week to assist Mr Graham McLennan (our drum band instructor) and their dedication to practise showed in how well they could march and play at the same time!
Thanks must also go to Craig Hyde for constructing our ANZAC Day banner and to the Hyde family for making poppy buttons for the children to wear.
Morning Drop Off
In order to keep our children safe and happy before school please note the following:
1. There is no teacher on duty before 8:20 of a morning in accordance with the enterprise agreement. Children who arrive before 8:20 are instructed to sit on the seat located along the undercover pathway on the playground until the teacher on duty arrives. I appreciate your efforts in not dropping off students before 8:20 am.
2. We have had some near misses reported to the office where children have run out in front of buses and cars. Please assist us by watching your children as they get out of your car and walk into school and remind them to cross at the School Crossing Zone only.
Writing Workshop
Please note the Writing Workshop that will be occurring before the P&F meeting in week 3. This will be a very worthwhile event where I will lead the students (with your help) through a process of creating a piece of writing. This is the first of two workshops, where we hope to show parents and carers the ways we support writers at school. The first session will outline how we plan and do our first draft. The second workshop in June will be about editing our writing.
Important Event: Writing Workshop for Parents and Students
DATE: Tuesday 4 May
TIME: 3:30 pm - 6:00 pm
VENUE: Mercy Hall
LUCKY DOOR PRIZE: $50 Voucher
At 3:30 the children will be supervised in the playground whilst parents gather in the hall where we have a guest speaker arranged.
At 3:45 the students will gather to write with their parents and teachers.
This will be followed by our P&F meeting - and pizza!
For catering purposes, please complete the note attached to this newsletter, to indicate how many people will be attending.
With every good wish, Lee Denton Principal Masters of Education (Leadership)
Assistant Principal - Anne Forwell
Staff Development Dates
A reminder that this term we have 2 more staff development days (pupil free). These are;
Wednesday 5 May
Thursday 17 June.
Again thank you.
Dental Visit
In week 10 of this term we are having a visit from trained and qualified dental staff from Australian Dental Health NSW. The purpose of this school initiative is to provide an opportunity for your child's teeth to be checked if you provide consent. Permission forms have already been sent home. Please return the form by Monday 10 May if you would like your child to participate.
Leader of Evangelisation - Donna Bancroft
Catholic Schools Week
Catholic Schools Week's focus is centred on 'Faith in the Future', the theme of the 200 Years Celebration of Catholic Education in Australia. The theme reflects the core purpose of Catholic Education to form students in their faith, and to provide an education that enables our graduates to make a meaningful contribution to the world.
There will be a Mass commencing at 12.00 noon at St Mary's Church Grafton for our Year 6 School Leaders and School Captains on Friday 30 April. McAuley Catholic College has kindly offered to provide bus transport to and from the Mass.
At the conclusion of the Mass, student leaders from St Joseph's Primary School, St Mary's Primary School and McAuley Catholic College are invited to lunch at the Mercy Centre Grafton, to foster student leader relationships within our Catholic School community.
St Joseph's School Captains, Jason Burling and Isabelle Pye, have also been invited to attend a Sister's of Mercy Summit before the Mass commences. We look forward to them sharing their experiences with our school community upon their return at next week's assembly.
At the same time as the Mass held at St Mary's Church, there will be a whole school Catholic Schools Week liturgy at St Joseph's Primary School in our Mercy Hall to pray in thanksgiving for 200 years of Catholic education, and with great faith in the future of Catholic education. Please come and join us at 12.00pm as we celebrate Catholic Schools Week. You are most welcome.
Leader of Catechesis - Joe Stewart
Proclaim Staff Day Wednesday 5 May (Pupil Free Day)
Proclaim Lismore is aimed to enhance and strengthen the foundations of Catholic education. Next Wednesday 5 May every school in the Lismore Diocese will participate in this staff day to ensure that Catholic Education, and our school, continues to be truly Catholic. The day will ensure that we are a place of Evangelisation, achieve high levels of Catholic religious literacy and practice and are led by staff who will contribute to these goals.
"If ever there was a time that we need to be clear about our purpose and the distinctiveness of our work in Catholic Education, your work in Catholic Education, then that time really is now." Dr Anne Graham.
Again we thank you for supporting this Staff Development Day.
K-2 Instructional Leader - Larissa Deleiuen
Walker Learning
What a fantastic start to Term 2 Kindergarten and Stage 1 have had! The students entered their classrooms after returning from the holidays with their eyes wide to the new and engaging learning areas their teachers had been setting up in the holidays. Each learning space was carefully planned to link with all key learning areas the students are currently learning about. Take a look at the areas in action below!
Sport Coordinator-Emma Davis
Clarence Zone Cross Country Carnival
Congratulations to all St Joseph's students who participated in the Clarence Zone Cross Country Carnival held at McAuley Catholic College on Wednesday. All students represented the school with pride and excellent sportsmanship.

Congratulations to Braxton Metcalfe and Zylan Dobra-Garrettt who will now represent the school at the Lismore Diocesan Carnival.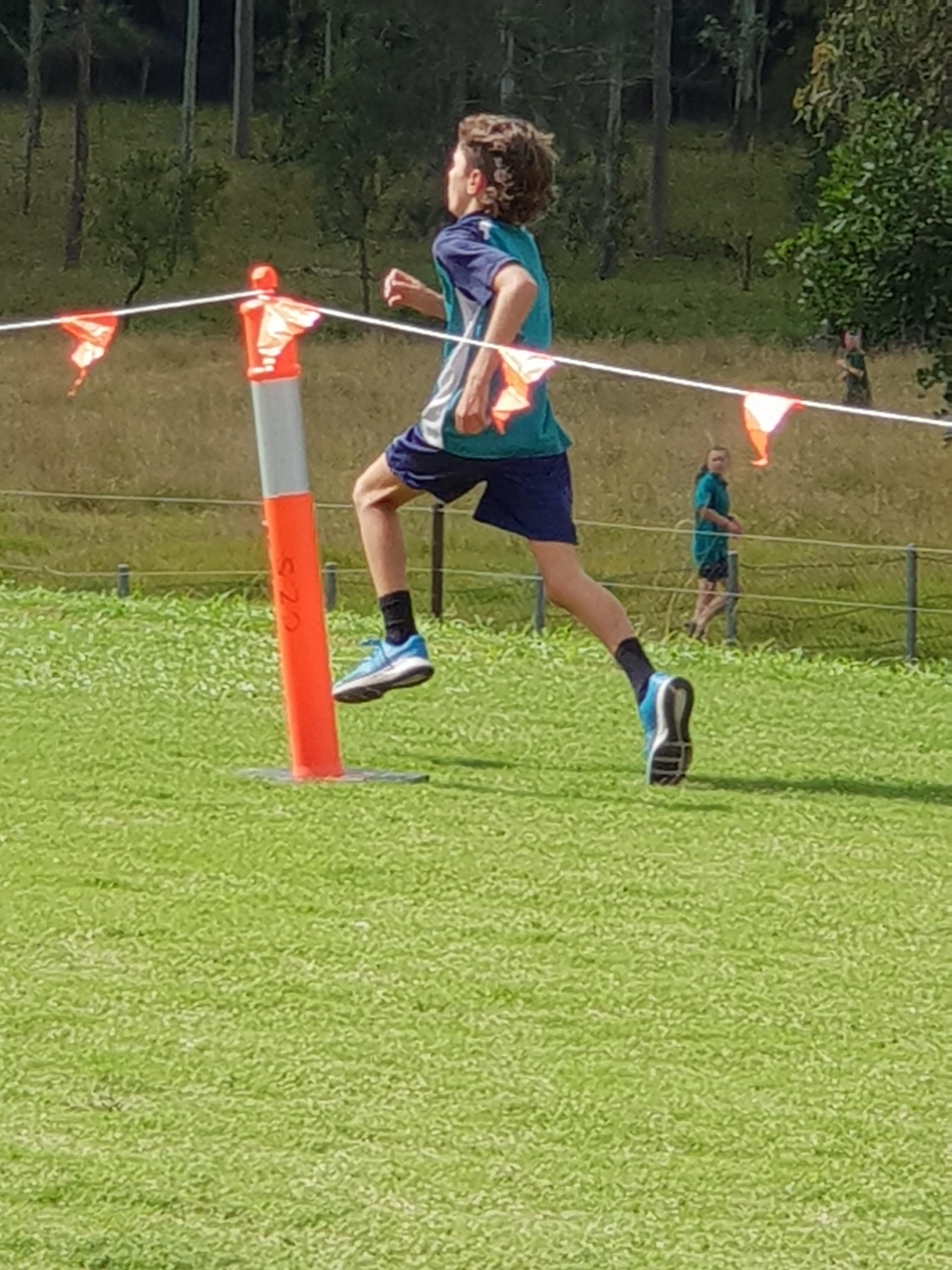 Term 2 School Sport
This term St Joseph's was successful in receiving a Sporting School Grant. These grants are given out to schools to assist with the costs of running school sport programs. This term all students will be participating in a lawn bowls program called Rookie Rollers. This program is designed to enable school children to participate in an engaging format, which is both fun and inclusive. Students will learn the basic skills of lawn bowls using equipment and activities designed for their age group.
This program is also being supported by the South Grafton Ex-servicemens Club. They are providing their bowling green for the school to hire free of charge. The funding will be used to pay for the coaches, equipment and transport costs associated with the program.
Students will participate in the program each Wednesday for 4 weeks commencing Wednesday of Week 4.
Library/Book Club Coordinator - Anna Smidt
Writing Wall
At St Joseph's we are all writers and we are so keen to show off our talents. In the library at the moment we have on display some creative writing by Stage 1 and 2. If you have the opportunity, pop in and have a read, I guarantee you will be thoroughly entertained.
Book Club Issue 3 of Book Club is out now! If you would like to place an order please do so by sending your orders to school by Thursday 6 May.
Meet Leigh Hobbs
Leigh Hobbs is an incredibly popular artist and author of childrens books and TV series with characters Old Tom, Horrible Harriet and Mr Chicken. Family and friends are invited to meet Leigh at the Grafton Regional Library on Thursday 29 April between 5.30 and 6.30 for a fun and creative evening. This is a free event.
Weekly Merit Awards
Congratulations to the following students who received a Merit Award this week.
Kindergarten
Maddelyn Rogers for her positive start to her learning journey at St Joseph's. Rubin French for using one to one counting strategies successfully to identify how many are in a collection. Finn Lihou for identifying smaller words within larger words to assist him when spelling.
Stage 1
Pippa Bennett for her enthusiasm to all classroom tasks. Braxton Metcalfe for applying himself to the writing task with confidence. Xavier Alford for his fantastic explanation about odd and even numbers. Elsie-Maree Harris for learning to show respect to her classmates by waiting her turn to share her thoughts during discussion time.
Stage 2 Isla Johnson for producing some great persuasive writing during our class 'cold write.' Aidan Knox for producing some great persuasive writing during our class 'cold write.' Bradley Esterhuizen for consistent class participation and task engagement. So proud of you Bradley! Bonnie Shoesmith for her contribution during class reflection time and producing a great artwork of 'Anzac Ted.'
Stage 3
Eve Pullen for showing enthusiasm towards her own and her peers learning success. Zylan Dobra Garrett for willingly sharing his mistakes during mathematics to help further his own understanding. Lily Barrett for her active participation when discussing our learning intentions. Eli Rogers for a successful first week back at St Joseph's. Welcome back Eli.
School Events & Dates
TERM 2
WEEK 2
Monday 26 April-Friday 30 April - Catholic Schools Week
WEEK 3
Tuesday 4 May 3.30pm to 5.00pm - Parent Partnership Evening, Writing
Tuesday 4 May 5.00pm to 6.00pm P & F Meeting
Wednesday 5 May - Proclaim Staff Development Day (Pupil Free)
Sunday 9 May - Mother's Day
WEEK 4
Tuesday 11 May - Year 3 & 5 NAPLAN
Thursday 13 May - Year 3 & 5 NAPLAN
Drama and Voice Tuition
If your child would like tuition in drama or voice please contact Maree Hickson on 0421 656 019
School Notes
Uniform Shop
U Design Schoowear BrewHouse Village Gate 4
Opening hours from 19 April 2021 Monday - Friday 10.00 am to 4.30 pm Phone 6643 2989
Canteen Roster