Term 2 Week 8
Principal's Message
Dear Parents and Carers,
Board Meeting
As you know, earlier this year the Catholic Schools Office (CSO) became a company. On Wednesday of this week the company board, consisting of 12 members, chose St Joseph's as the venue for their meeting.
Jason and Isabelle our school captains, did a great job of welcoming our visitors and the board started their day with a tour of the school. They were very interested in our plans for the future direction of our great school.
The other principals of Grafton (Kate Thompson and Jacki Moore) and Fr Joe joined with me in having lunch with the board.
The board will be visiting other schools for future meetings. Their aim is to get a good idea of the school system they serve in order to make the right decisions in moving the company forward.
With every good wish, Lee Denton Principal Masters of Education (Leadership)

Assistant Principal - Anne Forwell
Staff Development Day (pupil free)
A reminder that our next staff development day will be held this term in week 9 on Thursday 17 June. The learning for staff on this day continues our work with CLARITY where we are working towards continuous improvement in learning and teaching.
Facebook
On our facebook page you will find photos of our weekly award winners, the link to the weekly newsletter as well as updates on school events and celebrations of student learning.
https://www.facebook.com/StJosephsSouthGrafton
Like us on facebook
Leader of Evangelisation - Donna Bancroft
Class Masses
The students of St Joseph's School are very fortunate to have support from Father Joe and Father Emmanuel in helping us celebrate Mass at school.
On Wednesday, Father Emmanuel visited our Kindergarten class and commemorated The Immaculate Heart of the Blessed Virgin Mary. Afterwards, Father asked the students questions relating to their Religious Education unit: Belonging to God's People. In return, the students were able to provide Father with many insightful answers.
On Wednesday June 23, during the last week of term 2, Stage 1 will be celebrating their Class Mass. Parents are most welcome to join us in our celebrations. We look forward to seeing Father once again and thank him for making these Masses available to us and enriching us in our faith.
Father Emmanuel, Miss Davis and Kindergarten 2021.
Leader of Catechesis - Joe Stewart
Sacrament of Confirmation
Please keep the following children in your prayers as they continue their preparation for the Sacrament of Confirmation which will be held on Friday, 23 July.
Miranda Scully, Lara Forwell, Rowan Lloyd, Rachael Savins, Hugh Brotherson and Ivy Lloyd.
A letter detailing further information regarding the preparation of the children for this sacrament will be sent home next week.
May the Holy Spirit continure to bless and guide you on your faith journey.
MJR - Making Jesus Real
This week at the assembly, our Year 6 Leaders presented the theme that Gratitude is the Best Attitude.
This week, they asked the children to explore ways of being thankful and grateful at St Joseph's. We have so much to be grateful for. The year 6 leaders explained that we are so lucky having a beautiful school with wonderful places to play and learn.
Gratitude and thankfulness are qualities that bring much joy into the world. "Thanks" is such a small word that can mean so much. There is so much to be thankful for: clean water and air, good food, family, friends, teachers our school and church.
They asked when was the last time you said thanks to your mum or dad? For breakfast? Dinner? Clean clothes? Taking you to footy or soccer? What about to your teacher? For a great lesson? For some free time? For asking how you are? When did you last thank God for the blessing of peace and life?
This week, let's all make the effort to be grateful and thank those who help us and provide for us. We all have so much to be thankful for.
K-2 Instructional Leader - Larissa Deleiuen
Walker Learning Study Tour Professional Learning
Last week, Miss Carly Cormick and Mrs Carole Reinhard travelled to Brisbane to visit Chapel Hill State School. Here they participated in a Walker Learning Study Tour where they were lucky enough to see quality inquiry learning pedagogy in action in the K-2 rooms. During their professional learning day they covered many items including:
Observing children and teachers during investigations

Experiencing the learning environment

See working demonstrations of; tuning-in, reflection, focus children, reporter and photographer elements

Met experienced teachers and leaders to discuss elements and implementation strategies
Not only did they see and discuss the school they were visiting, they also saw photographs and video footage of Walker Learning classrooms across Australia. This professional learning opportunity was not only a wonderful learning experience for Miss Cormick and Mrs Reinhard, but for all St Joseph's staff as they will share their learning with the school through staff meetings, team meetings, classroom visits and lesson observations. Already I have observed refinement of the Stage 1 teachers' practice during Walker Learning. I could see and feel the enthusiasm and strive to teach at an even higher level upon Carly's return. This was a wonderful opportunity for our teachers to clarify their practice in regards to Walker Learning.
Leader of Curriculum - Hannah Gorman
Semester 1 Student Reports
As mentioned last week, teachers are currently working hard to finalise reports in aim to provide feedback to parents/caregivers about student progress. Throughout NSW, a standards-referenced approach is used to report student achievement. Stages 1-3 use the A-E grade scale and Early Stage 1 (Kindergarten) uses a scale of Working Towards, Working At and Working Beyond to describe how well students have achieved. An overview of these scales are found below.
Sport Coordinator-Emma Davis
School Athletics Carnival
The St Joseph's Athletics Carnival will be held on Wednesday 16 June. The carnival will be held at Barnier Park in Junction Hill. All students will attend this event. Infants students will participate in a novelty carnival and return to school once their activities are completed at 12pm. Primary students will compete in the following events: 100m sprint, 200m sprint, shot put and long jump. Students will be able to nominate to compete in the 800m race. Students will also participate in some novelty activities throughout the day.
Students who place in the top 2 in each event will be selected to represent the school at the Clarence Zone Athletics Carnival in Coffs Harbour during Term 3 on Tuesday 13 July.
A note went home with students last week containing this information and a money slip for the collection of $4 to cover the costs associated with the event.
Rookie Rollers
This week students participated in their final session of the Rookie Rollers program. Thank you to the South Grafton Ex-servicemens Club for the hire of their greens to run the program. A big thank you also to Neil from Bowls Australia for running the program.
Fun at Rookie Rollers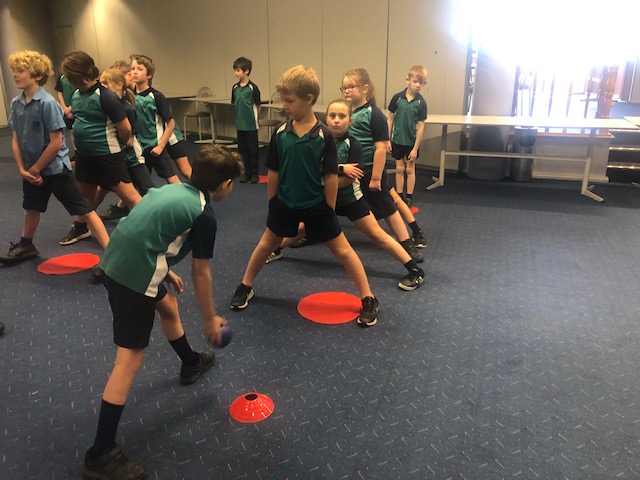 Library/Book Club Coordinator - Anna Smidt
Graphic Novels
The popularity of graphic novels is on the rise with readers of all ages. For those of you not familiar with the term, graphic novels can be described as novels that use images as well as words to tell a story. Our school library has just purchased some new graphic novels at the request of the Stage 3 students who are positively devouring these books.
Overdue books
Please have a look through your bookshelves for any books belonging to the library. There are many overdue books at the moment. Some are many months overdue so please return these before the end of the school term.
Gumbaynggirr Language - Liz Hegedus
Giinagay Nganyundi -Hello You Mob,
Kindergarten have been very busy learning Gumbaynggirr language. So far, we know how to say hello, yes, no, good, counting from 1 to 10 and also say 'Hello my name is ________.
Hello - Ginnagay, Yes - Ngii, No - Biiway, Good - Darruy.
1 - Garlugan, 2 - Bularri, 3 - Guga, 4 - Daan, 5 - Marla, 6 - Juga, 7 - Duwa, 8 - Janya,
9 - Wagaa, 10 - Ngaal.
Hello, My name is Miss Liz - Giinagay nganyundi bijaarr Miss Liz.
We also learnt the word for Kangaroo - nunguu. The word for Emu - Gugaamgan.
Kindergarten have been having a great time learning the Gumbaynggirr language and learning how to be the animal through dance.
Here are some links of how the Indigenous people become the animal.
https://youtu.be/ftVneIbwVL0 Kangaroo
https://youtu.be/rvJejPCa6CY Emu
Darrundang -Thankyou Miss Liz Hegedus Indigenous Educationer Worker
Weekly Merit Awards
Congratulations to the following students who received a Merit Award this week.
Stage 1
James Awbery for consistently applying himself to all tasks and demonstrating a growth mindset. Eli Woods for working towards the developmental domain of speaking in full sentences while using direct eye contact. William Fallon for showing respect and kindness to his peers and helping those in need. Lincoln Browne for his enthusiasm to share during class discussions and talking in full sentences.
Stage 2
Bonnie Shoesmith for showing a positive attitude towards her reading, moving from a level 19 to level 23 this term. Sheen Thrupp for making steady progress in his reading this term. Nate Finlay for his contribution during class discussion on homophones. Heidi Brockwell for always being an independent learner. Rowan Lloyd for becoming a confident and capable reader.
Stage 3
Annabella Fordham for showing perserverance when creating number patterns and for celebrating her success. Monique Rogers for modelling expectations to our younger students. Isabelle Pye for representing the school when greeting visitors to our school.
School Events & Dates
TERM 2
WEEK 9
Monday 14 June - Public Holiday

Wednesday 16 June - Athletics Carnival, Barnier park
Thursday 17 June - Staff Development Day (Pupil free)
WEEK 10
Monday 21 June - 2.15pm - 2.45pm School Assembly
Friday 25 June - Last Day of Term 2
TERM 3
Week 1
Monday 12 July - Students return for first day of Term 3
Tuesday 14 July - Zone Athletics Carnival
Drama and Voice Tuition
If your child would like tuition in drama or voice please contact Maree Hickson on 0421 656 019
School Notes
Student Banking
As per Commonwealth Bank guidelines student deposit books are to be brought to school only on the day of banking and returned to students the same day.
Our banking day is Wednesday, therefore students are asked to only bring their deposit book in on that day. Thank you
School Photos - Thursday, 24 June 2021
Order Envelopes have been sent home with students. If you would like to order sibling photos please see the School Office.
Uniform Shop
The uniform shop is located in the BrewHouse Village Opening hours:
Monday - Thursday 10.00am to 4.30pm Friday by appointment only Email: fytexptyltd@bigpond.com Phone 6643 2989
Canteen
Canteen Volunteers Needed
Our canteen cannot operate without volunteers. If you are able to assist us between 9.00 am and 12.00 pm on any canteen day, it would be much appreciated. In particular we are looking for volunteers on a Thursday in Term 3 or the canteen will have to close that day.
Babies in prams are very welcome. Toddlers, however, can find the canteen an unsafe place so we would recommend that they are not present.
You may find you cannot volunteer every week - that is fine! We are grateful for any help you can give us. Please contact the School Office if you are able to help.