Term 3 Week 6
Principal's Message
Dear Parents and Carers,
I am so proud of our community. The lock down that came into effect on Saturday night gave us the opportunity to show how we were prepared and willing to go the extra mile at this difficult time.
Thanks must go to our wonderful staff. We met via zoom on Sunday (yes, staff do work weekends) to make sure we had everything in place for Monday morning. Take home resource packs were checked and chromebooks tested to make sure everything would be ready. Staff are on a roster system so that they take their turn to be at school minding our essential workers' children. Whilst at home, staff check in on their class and plan lessons and make recordings. We also work on compliance and policy review and of course do professional learning.
We are very grateful to you, the parents and carers for understanding the importance of our covid rules which are set down by the NSW government. You were all so supportive as you collected the resource packs on Tuesday in contactless fashion.
Finally, we miss the children and are very proud of those children who are attending school for the manner in which they are embracing these changing times. All children are in the double classroom affectionately know as the Junior Joey's room.
Any latest news I receive will be posted on the home page of our website so please look there for updates. You will receive a text if there is an urgent message. If the lock down is to continue past this week, we will let you know as soon as possible.
With every good wish,
Lee Denton
Principal
Master of Education (Leadership)
Assistant Principal - Anne Forwell
Junior Joeys 2021
Our Kindergarten enrolments for 2022 are filling very fast this year. If you know of anyone who is interested in coming to St Joseph's next year please encourage them to contact the school office to secure their place.
While the Junior Joeys children are currently unable to attend due to COVID restrictions we have started the class virtually. Episode 1 has been emailed home to all the families of this year's Junior Joeys transition to school class. Big Ted is back!
Stage 3 Walker Learning
The children in Stage 3 are enjoying the continued transformation of their room into a space that is reflective of the Walker Learning Approach (WLA). Here are their thoughts……...
'I like how the light isn't as bright, it makes it easier to concentrate.' - Rachel
'The natural greenery is nice to be around.' - Jason
' The fairy lights are calmer.' - Emily
'The lowered ceiling feels calmer.'- Eve
'I like that we can move around where we sit and learn. We have choices.' - Isabelle
'The loungeroom is a cool space to meet and learn.' - Zylan
'I like it how we have things in the way, to block out distractions. ' - Rachel.
'I like the different styles of seating.' - Jason
Leader of Evangelisation - Donna Bancroft
A Prayer from Pope Francis during lockdown.
K-2 Instructional Leader - Carole Reinhard
This is a very different week with students working from home except for some students who will continue to work on their blended learning at school. Thank you to the parents who have collected their child/childrens learning packs to continue their learning at home while we are in lockdown. Hopefully it won't be for too long this time.
Students in Kindergarten had been working on half of a group or half of a shape last week. It is a good time while they are at home to get them to count groups of objects and investigate grouping and sharing of objects. Cooking is another activity which helps children learn about measuring ingredients and gets them familiar with cup and spoon measures.
Students in Stage 1 have been working on patterns in numbers and practising skip counting by twos, threes, fives and tens, forwards and backwards. This is a fun activity to do together which will increase their number awareness. I would encourage you to ensure your child has a book to read each day as this is a valuable skill to work on at home as well.
Looking forward to seeing our students back at school soon.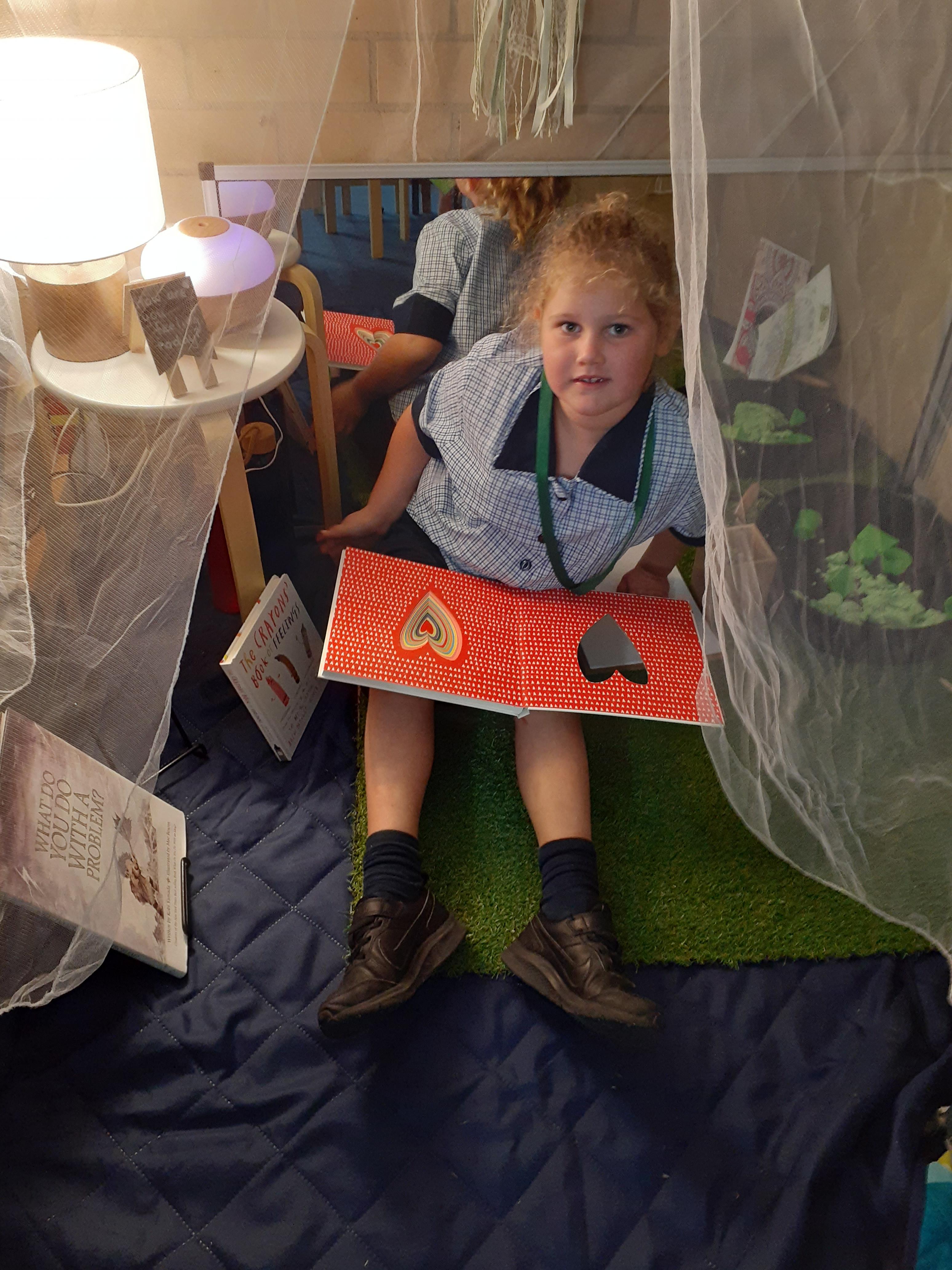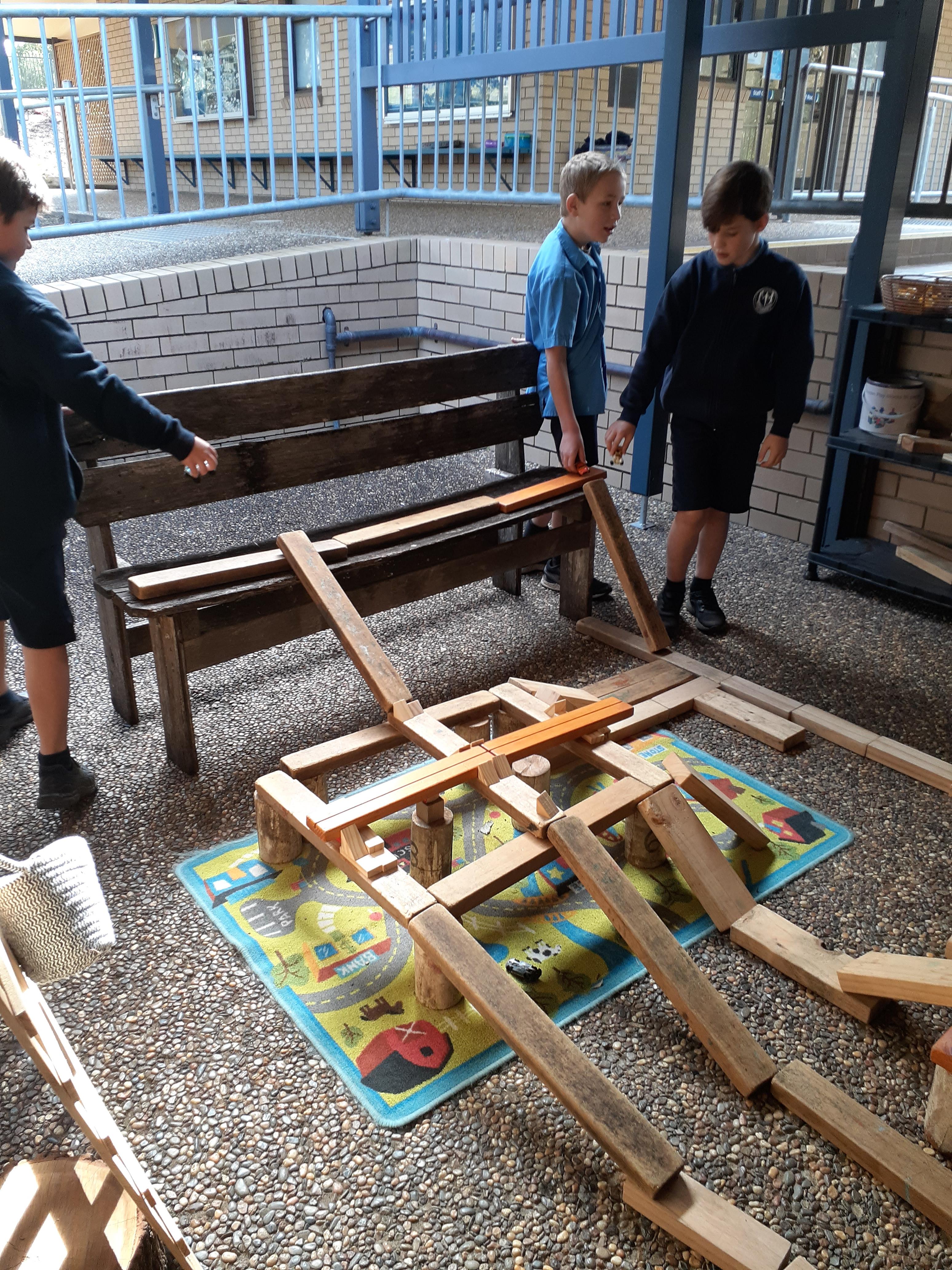 Library/Book Club Coordinator - Anna Smidt
Book Week Postponed :(
Due to the unpredictable nature of the lockdown, our Book Week celebrations will unfortunately have to be postponed to a later date. Don't worry, they will be even bigger and better when we finally do have the chance to celebrate so watch this space.
In the meantime, continue to get lost in a good book. Go outdoors and find a place to read in the sun or make a great cubby house to curl up in and read. Lockdown is such a great opportunity to develop that love of books and reading.
Digital books
If you don't have access to books at home, below are two ways to continue reading digitally.
Sora is an app by Overdrive that allows you to borrow ebooks and audiobooks from the Australian Catholic Education Network (ACEN) Digital library - anywhere, anytime. Once you have added the app to your device, just follow the instructions in the link below and you'll be reading in no time.
https://drive.google.com/file/d/1nukbZYvJHBQUIkXJIixVyqhjjATl_6RX/view
Storybox is another great resource for accessing quality books. The website has most of the books on the Children's Book Council 2021 Shortlist as well. You can login by using the details below.
Username: joey2460
Password: joey2460
Book Club
Book Club Issue 5 was ordered last week and is on its way! As a result of your orders, the school earned about $80 in rewards dollars which was quickly spent on some more excellent books for our library. Thank you!
Issue 6 of Book Club was sent home last Friday, if you didn't receive the catalogue, just visit the Scholastic website at https://www.scholastic.com.au/book-club/book-club-parents/
Gumbaynggirr Language - Liz Hegedus
Giinagay Ngujawiny -Hello You Mob,
Welcome to week 6 of term 3. I understand we are all facing challenging times with COVID, but my prayers and thoughts are with everyone.
This term we are currently looking at 'Gumbaynggirr Language.' The students have learnt many different words such as: Giinagay/Hello, Biiway/No, Ngii/Yes, Durruy/Good.
We have also learnt how to count from 1 to 10 in language.
1-Garlugun, 2-Bularri, 3-Guga, 4-Daan, 5-Marla, 6-Juga, 7-Duwa, 8-Janya, 9-Wagaa, 10-Ngaal.
We have also learnt many different animal names in language.
Kangaroo-Nuunuu, Koala- Dunggirr, Bird-Jiibiny and Brolga-Barlawi.
We also learnt the word for bird-Jiibiny. Jiibiny is the word for all birds but when you break it down every bird has its own name, such as: Songbird-Daalgay Jiibiny, Parrots-Burligany, Black Crow-Guuru Waagan, Wedge Tailed Eagle-Maajaygurra Juun Garriirl, Brolga-Barlawi.
We are slowly learning the 'Gumbaynggirr Language' and the students love discovering how to pronouce words in a different language.
Darrundang Ngiinda -Thankyou
Miss Liz
IEW (Indigenous Educational Worker)
School Notes
New NDIS Service Provider
Rural Lifestyle Options Australia LTD is a not-for-profit disability service provider who are expanding their support network in South Grafton
Lisa Rea is based in Lismore but works across the Northern Rivers region and is happy to help support anyone in the local community looking to access support under their NDIS Plan or who don't know where to start with NDIS.
https://www.rloa.org.au/rap
School Events & Dates
TERM 3
WEEK 7
23 - 27 August Book Week - Celebrations postponed

WEEK 8
Wednesday 1 September 9.15am - Year 3 Mass at St Patrick's Church
Sunday 5 September Father's day
WEEK 9
Wednesday 8 September 9.15am - Year 4 Mass at St Patrick's Church
Sunday 12 September - First Holy Communion
WEEK 10
Wednesday 15 September 9.15am - Kindergarten Mass at St Patrick's Church
Friday 17 September - Last day of Term 3
Uniform Shop
The uniform shop is located in the BrewHouse Village.
Opening hours:
Monday - Thursday 10.00am to 4.30pm
Friday by appointment only
Email: fytexptyltd@bigpond.com or Phone 6643 2989
Canteen
Our canteen is currently closed due to Covid-19 restrictions.