Term 4 Week 2
Assistant Principal - Anne Forwell
Welcome Back to term 4
It is great to see all the childrens' smiling faces back at school. We are still currently under level 3 restrictions which unfortunately means that we cannot have parents/caregivers at school. We are however, permitted to have canteen on Wednesdays and Fridays this term. We thank you for your continued support as we manage these uncertain times, especially with the rising cases in our local area. If we need to provide you with an urgent message you will receive this via text and email. Again thankyou and stay safe.
Student Absence from School
If your child is away from school you will now receive a text message from the school office. We ask that you please reply to this message as we need to supply a reason for your child's absence. If we do not receive a reason within 7 days the absence is marked as unexplained. Thank you for you assistance with this requirement.
Welcome Nicole Burrows
We are very excited to introduce Ms Nicole Burrows. Nicole will be teaching Stage 2 full time with Ms Davies for term 4.
Nicole is not only a very experienced teacher but has extensive leadership skills as she has held the position of Inclusion Officer and 3 Assistant Principal roles at different schools.
Nicole also has her own small business 'Paws 4 Learning' with her Therapy Dog, Bertie. We are lucky to also have Bertie joining our school with Nicole. Bertie has settled in well and is getting to know all the students.
Leader of Evangelisation - Donna Bancroft
THREE SIMPLE PRAYERS FOR YOUR DAY
How do we make time for prayer in the midst of a busy day? Below are three simple prayers that you can pray each day to help you find God in your everyday life.
Start the day with a morning offering ...(at the beginning of the day).
A morning offering is a brief prayer that places us and the day ahead in the heart of Christ and his mission as an offering to God. It is usually prayed at the beginning of your day. You can choose a 'traditional' morning offering, or simply place yourself and your day ahead in God's hands, perhaps offering up anything particular that is on your mind that day.
Loving God, here I am. I know you are always with me. I place my heart in the Heart of your Son Jesus, who gives himself to us in the Eucharist each day. May your Holy Spirit strengthen me to live the Gospel in everything I do and say. For my part I give you this day–all my prayers, works, joys, and sufferings–all I am and possess. With Mary, Mother of the Church, I pray for the mission of the Church, for all Apostles of Prayer, and for the intentions of the Pope this month. Amen.
2. Make an Act of the Presence of God at some point in the middle of your day, perhaps during your coffee break or lunch break if you are working or studying.
This short prayer helps us to become aware of God during our day. In your imagination, become aware of God's presence and attention to you at this very moment. It may be that you can imagine God's face looking down upon you right now and smiling; or it may be that you can feel God's breath on your skin; or it may be that you can be aware of God's touch; or it may be that you simply sense God's presence.
Do whatever works best for you, whatever allows you to better recognise your Creator present with you, here and now with love. The following steps might help you to get in tune with God's presence:
Take a moment to acknowledge God's specific and loving attention to you in the here and now.

Feel the warmth of God's love as God looks upon you, God's purposeful creation.
God loved you into existence. God continues to breathe life into you now and sustains you in being. God is inviting you at this moment into an ever-deeper relationship of love.
Just bask in that experience for a few minutes – just as you bathe in the warmth of the sun on a warm summer's day, so now bathe in the warmth of God's love for you.
And as you bask in the warmth of God's love for, listen to what God might be communicating to you.
As you listen, you may feel drawn to make a response, to say a few words to God in the silence of your heart.
In responding to God, you may want to ask God for something, or you may want to pray for someone.

Maybe you want to thank God for your experience of God's unique loving attention to you, perhaps in words like these:
Dear God, I acknowledge that you are looking at me in love and attending to me always and most especially at this moment. I thank you for this time we have had together. I ask you now for the grace to be able to look upon you and attend to you this day. May I also receive the grace to see myself as you see me and to see others in this world as you see them. Amen.
3. Review your day with God (at the end of the day).
In the evening, or towards bedtime, spend a few minutes reviewing your day with God. Which moments of the day is God inviting us to pay attention to?
Thank you for all that the day has been and for all God's gifts.
Sorry for the moments of selfishness and acting without love for others.
Please These are some of the people and events that I want to pray for. This is what I ask for as I look towards tomorrow.
If you don't have time to pray all of these prayers each day, I suggest that the third prayer is the most important! St Ignatius called this prayer 'the Examen.'
K-2 Instructional Leader - Carole Reinhard
Thank you to the many parents who have been home schooling their children during lock down. It is so lovely to have them back at school and share in a normal day with them. This term there is a lot of assessing to be done ready for report writing a little later in the term. It is very rewarding to see the progress that children are making in their learning. Thank you for being wonderful partners with your child's teacher.
Next week Year 2 will be doing their Pat Maths and Pat Reading testing online. This will help us identify areas of need for our students. This term Kindergarten and Stage 1 are learning to write a persuasive text. They are learning to write arguments to support their ideas to persuade someone of their point of view. In maths Stage 1 have been learning about volume and capacity and this week are learning how to collect data from the class on a topic.
This term the dramatic play area features a puppet theatre where the students can write and put on their own puppet play. It is a very popular area for Walker Learning Investigations.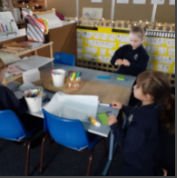 Sport Coordinator - Emma Davis
Update for Term 4 Swimming
Normally our Term 4 PE component would be an Intensive Swimming Program for Kindergarten and Stage 1, and Water Safety lessons for Stage 2 and Stage 3 students. The current Level 3 restrictions that we are currently operating under, only permit practical PDHPE activities onsite. Travel to external sporting facilities, including public pools, is currently not permitted. Therefore we are currently unable to complete these activities. Students will complete PE lessons at school for Term 4.
Library/Book Club Coordinator - Anna Smidt
Chess Competition
Term 4 is when the St Joseph's annual chess competition takes place. There have been students in the library at lunchtime honing their skills ready to compete. Keep your ear to the ground as Mr Stewart will be calling for nominations soon.
Book Club Issue 7
The catalogue for Issue 7 was sent home last week. If you would like to order through the school please have you order in by Thursday 21 October. If you would like to place your own order throught the Book Club website please click on the link below.
Book Club Home | Scholastic Australia
Gumbaynggirr Language - Liz Hegedus
Giinagay Ngujawiny -Hello You Mob,
Welcome to Term 4 of 2021. This term students are studying geography, looking at Indigenous areas in Australia. We are also looking at local famous Indigenous people. Stage 1 learnt about an Indigenous artist and author named Brownyn Bancroft.
Dr. Bronwyn Bancroft is a proud Bundjalung Woman and Artist. Bronwyn has been exhibiting nationally and internationally for over 3 decades. Bronwyn has illustrated and/or written 41 children's books. She has been a director of her own company, Designer Aboriginals Pty Ltd since 1985.
Bronwyn holds positions with Australian Indigenous Mentoring Experience (Director) and Commonwealth Bank Indigenous Advisory Council. She has been a volunteer senior strategist at Boomalli Aboriginal Artists Co-operative since 2009.
Bronwyn has a Diploma of Visual Arts from Canberra School of Art, 2 master's degrees, one in Studio Practice and the other in Visual Art, University of Sydney. Bronwyn was awarded her Doctor of Philosophy in 2018.
Selected collection acquisitions:
National Gallery of Australia, Macquarie University, Art Gallery of New South Wales, Art Gallery of Western Australia, International House, University of Sydney, Parliament House Art Collection, State Library of New South Wales, State Library of Victoria, Australian Museum and Artbank. Also, overseas collections such as Newark Museum USA, Prime Minister of Turkey, The Kelton Foundation USA, Volkerkunde Museum, Germany and Westpac USA.
Stage 1 was lucky enough to read her latest book, 'Coming Home To Country.'
Bronwyn explores a lot of themes in Coming Home to Country. Primarily, she investigates our relationship with the earth and how that relationship can develop over time and connect us to others through time and space. Bronwyn's writing style is poetic and deeply emotive.
Drawing on the connection we have to the land, Bronwyn Bancroft awakens the senses as she draws us in through vivid description of how the land, in its natural state makes us feel. The art in this picture book brings more depth to the story not only echoing the words but also showing us the land and telling us the stories of the flora, fauna and landscape within. Bronwyn asks us to listen to the orchestra of birds, to feel the crystal clear water, to see the poetry of clouds and watch the rain pour.
Dreams of people's past tell us the stories and help us into our future. They teach us to know our country and how to care for it – something we need to know for the future to be maintained. Bronwyn Bancroft describes her coming home to Country and the feelings it brings – perhaps a timely message for us all of the importance of getting back to nature, understanding it and just being.
Darrundang Ngiinda -Thankyou
Miss Liz Hegedus
IEW (Indigenous Educational Worker
School Notes
School Events & Dates
TERM 4
WEEK 4
Saturday 30 October - Bendigo Bank Youth Banner Competition, Market Square 9.30am
WEEK 5
Thursday 4 November - Jacaranda Thursday, School Closed
Uniform Shop
The uniform shop is located in the BrewHouse Village.
Opening hours:
Monday - Thursday 10.00am to 4.30pm
Friday by appointment only
Email: fytexptyltd@bigpond.com or Phone 6643 2989
Canteen