Term 1 Week 4 2022
Acting Principal - Danny Rankin
Dear St Joseph's Community,
What a great little school we have here built on solid traditions and modern education principles. It has been exciting to see our Kindergarten students transition to school confidently and happily, they are now settling into their new surroundings and routines of school. On the other end of the spectrum I witness Year 6 confidently leading the school and rising to the challege of learning more indepenently which is essential for secondary school.
What great fun was had at our Swimming Fun Day. It was a great mixture of serious swimming and fun in the water. Congratulations to our Champions and all those children who simply enjoyed the day- more in the Sport News.
One of the main reasons our school is so successful is the way that families and teachers support each other to achieve shared goals. Please contact your child's teacher with any concerns and be assured of our swift follow up.
Finally thank you to Mrs Mawhirt and Mrs Westgate for learning a new management system and of course yourselves for being patient with us as we too learn how to navigate Compass. Details follow in this newsletter about further opportunites to learn more about this new student/family/school management platform.
As we move closer to St Joseph's Feast Day we are reminded of our school prayer
Dear God, this greeting we say, We ask you to bless us all through the day
We hope you'll be pleased with all that we do, For most of all we want to please you.
Jesus, Master, kind and good, Help us to do the things that we should.
Make us loving and patient too, Always trying to be like you.
Please send us your blessings from above, Upon our families and all we love
And with the sick and sad we pray, Please Lord, give us a happy day
Amen.
Assistant Principal - Anne Forwell
What a fantastic few weeks at St Joseph's! We love the smiling faces entering the school grounds in the morning and the way that Kindergarten has joined our community so beautifully.
Year 6 Student Leaders
We are also very proud of our Year 6 students who are an amazing group of well mannered and caring students who try to make Jesus real everyday. Our Year 6 Leaders have also started to take on their leadership responsibilities as outlined below.
School Captains - Noah and Thomas. These boys are very excited to be leading our school and seeking student voice on a variety of matters across the school as well as leading our assemblies.
Mission Leaders - Brendan, Sophie, Lily, Rachel, Thomas. These students will assist Mr Stewart with liturgies, school masses and supporting those in need with service to our community.
Building/environment leaders - Brendan, Kyle, Peter, Tallon. These boys will be providing advice on playground equipment, our gardens and how to keep our playground tidy and litter free.
Library leaders - Kearia, Lily, Sophie, Ty. The library will be kept tidy and organised by these students and they will assist Mrs Smidt, our library coordinator with any events.
Sport Leaders - Rachel, Ty, Tallon, Peter, Kyle, Noah. Miss Davis will work with these students to organise carnivals and tabloid events as well as looking after our lunch play equipment.
Technology
At St Joseph's each child has their own chrome book. These computers are used as a tool to enhance learning and make learning engaging. Computers also support student's needs and build effective technology skills.
To keep our computers in good working order for all of our students the school has just purchased 10 new chrome books. We will continue to purchase a number of new computers each year so that the oldest computers can be replaced ensuring all students have access to computers that are fast and effective for learning.
Leader of Catechesis & Evangelisation-Joe Stewart
Shrove Tuesday 1 March. Next Tuesday, we celebrate Shrove Tuesday also know as Pancake Tuesday. On this day the children will all receive pancakes and will learn about the significance of this tradition. We ask that children bring in a gold coin donation to contribute to the works of Project Compassion and Caritas Australia. On this day we will also be launching our Mini Vinnies group. Stage 3 students can nominate to attend this event during lunch time which will involve connecting to a zoom session for the virtual launch of Project Compassion 2022.
Ash Wednesday Mass and Induction of Year 6 School Leaders. Our school community will celebrate Ash Wednesday at St Patrick's Church South Grafton on Wednesday, 2 March at 9:15am. All children will travel by bus to and from the church. Ash Wednesday marks the beginning of Lent as we prepare ourselves for the great feast of Easter. During the Mass, our Year 6 Leaders will receive their leadership badges and commit themselves to their leadership roles for 2022. All parents are invited to attend this special occasion.
Incitare Friday, 4 March. Year 6 attend McAuley Catholic College.
Incitāre means to stir up, incite, urge, spur - when the Holy Spirit comes into our lives we are invited to spread the good news to all we encounter. This will be a one-day retreat using various group processes and student discussion led by the CSYMA student leaders from McAuley Catholic College. Year 6 students will experience faith nurturing activities and skilling for being faith leaders in our school with the other Year 6 students from the Catholic schools in the Clarence region. A note has been sent home with Year 6 students with all the details, we look forward to hearing about their experience when they return to school.
K-2 Instructional Leader -Brooke Donoghue
In our K-2 classes during Term 1, we are focusing on the teaching of the 'reading' learning sequence within our literacy block and the way in which we structure this time to support student growth.
In Kinder, they are learning a new single sound and letter, one day at a time, to expose the students to a large array of sounds early on, so they can begin the process of reading through decoding (sounding out the word by recognising the sound each written letter makes). The teachings of the sounds have been thoughtfully organised to be taught in an order that supports the sound knowledge needed to sound out and read the words that are in beginner texts.
In Stage 1, through analysis of student's reading data, we have identified areas for growth for each student and have 'revamped' the structure of our reading block within English to ensure that all student's learning needs are being met. We have allocated extra teaching staff to this time through funding provided by the Catholic Schools Office. This allows teachers to have the smallest amount of students possible for direct learning and reading instruction. These groupings and the needs of these groups are data informed which ensures that all students are receiving personalised learning.
Sport Coordinator - Emma Davis
St Joseph's Swim Fun Day
Our St Joseph's Swim Fun Day was held on Tuesday. Kindergarten and Stage 1 had a fun morning in the little pool participating in some novelty events. Stage 2 and Stage 3 enjoyed participating in some competitive and non-competitive events in the big pool, a wonderful time was had by all on the slide. Congratulations to all students who participated in the day, fun was had by all. House champions and age champions to be announced at school.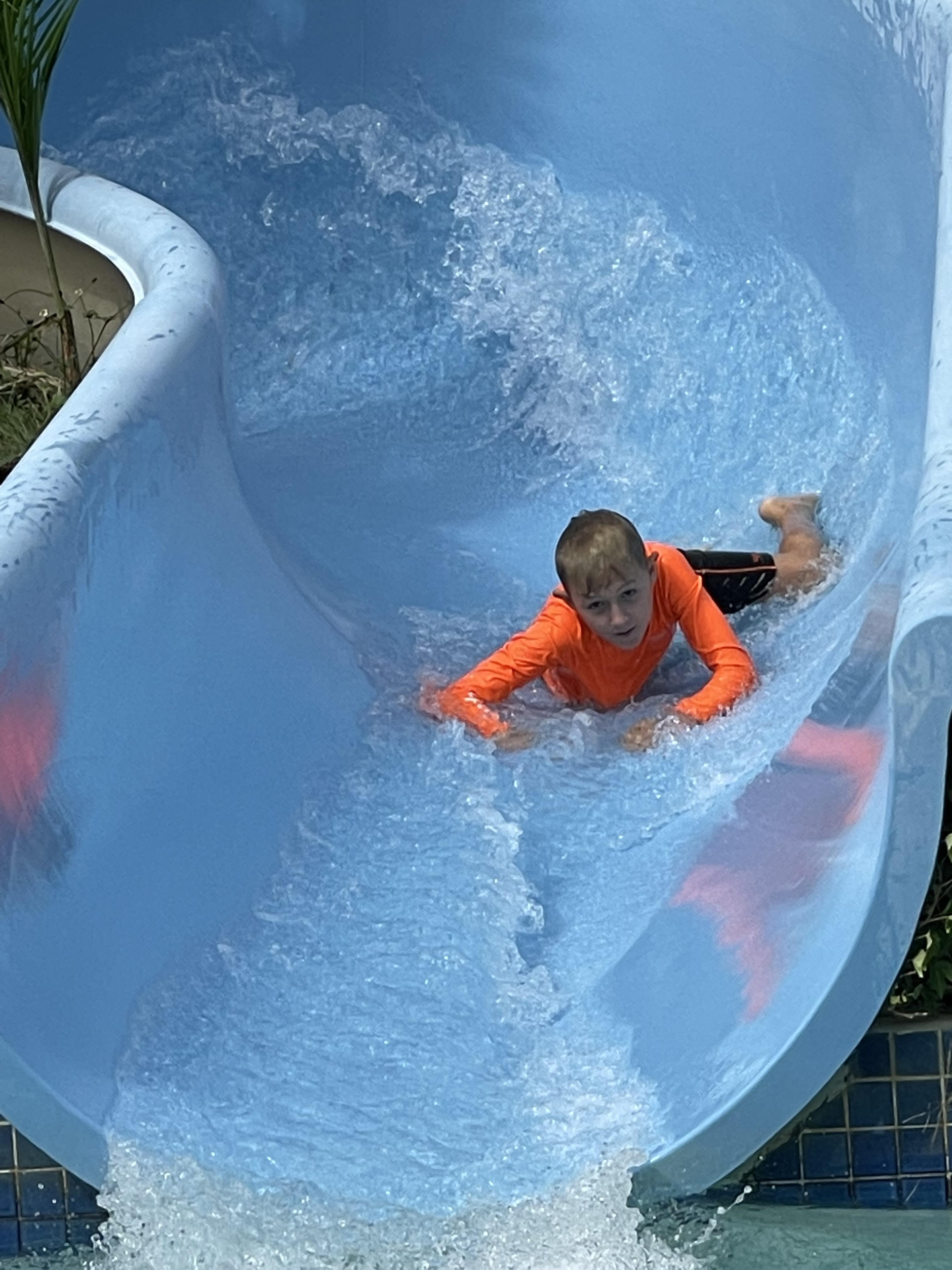 Prev
Showing images
1 - 8
of 11
Next
Clarence Zone Swimming Carnival
Congratulations to the following students who represented the school at the Clarence Zone Swimming Carnial on 16 February: Hugh Brotherson, Darcy Smith, Thomas Awbery, Kyle McCann, Noah Grainger, Noah Kyle-Robinson, Isla Johnson and Miranda Scully. All students represented the school with pride.
Gumbaynggirr Language - Liz Hegedus
Ginnagay Ngujawiny -Hello You Mob,
Kindergarten has been learning about Gumbaynggirr Country. The Gumbaynggirr people have occupied this land for thousands of years, forming one of the largest coastal Aboriginal nations in NSW. They are renowned as the 'sharing people' because their land was so rich that food and other resources were commonly shared with other nations.
The Gumbaynggirr nation covers a large area of the mid-north coast of NSW, from the Nambucca River northward to the Clarence River and inland to the Northern Tablelands.
The Gumbaynggirr people lived a very fruitful life along the Clarence River and Valley. The area was rich in the provision of varied quality food. The Gumbaynggirr people lived all over the Clarence Valley. They would build their humpies in areas where the food was plentiful.
At St Joseph's we have a beautiful mural that represents the Gumbaynggirr Tribe here in the Clarence Valley. The message of the mural relates to how the Indigenous Gumbaynnggirr Tribe lived here in the Clarence Valley alongside the Clarence River. The symbols represent the different people, campsites, resources from trees, resources from the river and land for food, shelter, clothing and journeys to discover new things. The cross represents catholic life and education introduced to the Aboriginal culture. It also represents Aboriginal families being a part of the St Joseph's family for over 100 years, this tradition is still very strong amongst the Aboriginal community.
Darrundang Ngiinda -Thankyou
Miss Liz Hegedus
IEW Indigenous Educational Worker
School Notes
Bell Times:
| | |
| --- | --- |
| Morning | 8.50am |
| Lunch | 10.50am-11.40am |
| Recess | 1.40pm - 2.10pm |
| Afternoon | 3.10pm |
School Office:
A friendly reminder that no change is kept in the School Office. When sending in payments please enclose the correct money.
Compass Support:
A representative from Compass will be available to answer any enquiries on Thursday, 3 March. If you're having any issues with the Compass App or you have an enquiry please email these through to the school beforehand. sjpgraf@lism.catholic.edu.au
Music Tuition:
Maree Hickson tutors in guitar, piano, voice and drama. If your child would like tuition please call Maree on 0421656019 or email maree.hickson@hotmail.com
School Events & Dates
TERM 1
WEEK 5
Wednesday, 2 March 9.15am - Ash Wednesday Mass and Induction of School Leaders at St Patrick's Church. All are welcome to attend this special event.
Friday, 4 March - Incitare Year 6 attending McAuley Catholic College
Canteen-Volunteers urgently needed
VOLUNTEERS URGENTLY NEEDED
OUR CANTEEN WILL BE CLOSED ON A FRIDAY
DUE TO NO AVAILABLE VOLUNTEERS
The canteen is in urgent need of volunteers. Currently we only have enough volunteers to open one day per week . We would love to hear from anyone who can spare a little time weekly, fortnightly or even each month between 9am to 11.30am on a Wednesday or Friday- all mums, dads, carers and grandparents are most welcome.
If you would like to add your name to the canteen roster please leave your details with the school office.
Uniform Shop
The uniform shop is located in the BrewHouse Village.
Opening hours:
Monday - Thursday 10.00am to 4.30pm
Friday by appointment only
Email: fytexptyltd@bigpond.com Ph: 0439434410