Term 2 Week 8 2022
From our Leadership
Dear St Joseph's Community,
Family/School Partnerships
So much of our newsletter this week is filled with examples of family/school partnerships. We have had opportunities to gather together to celebrate, conferences to discuss your child's progress, information about an upcoming K-2 event and our school reports to only name a few. Each one of these opportunities strengthen our relationships which in turn improves the educational outcomes of your child.
Parent Forum
A small but dedicated group of parents gathered last Tuesday to hear about our school. Points discussed at this forum were:
progress being made with promoting our wonderful school

what's common about our parish schools

ideas shared about how we build community especially after COVID

colour fun run for the school.



Next meeting we will further discuss fundraising ideas and what/how science and history/geography is taught across the stages.
Welcome
We welcome both Isabella and Kye Dawson along with their family to our St Joseph's community. It is always lovely to watch our students 'make space' in established friendship groups for new students.
Semester 1 Reports
Your child's Semester 1 Report will be made available via COMPASS on Friday, 24 June. Please ensure you have the COMPASS app for our school downloaded.
The Common Grade Scale shown below must be used to report student achievement in both primary and junior secondary years in all NSW schools. The Common Grade Scale describes performance and your child will receive an A, B, C, D or E for each subject area.
Common Grade Scale
A - The student has an extensive knowledge and understanding of the content and can readily apply this knowledge. In addition, the student has achieved a very high level of competence in the processes and skills and can apply these skills to new situations.
B - The student has a thorough knowledge and understanding of the content and a high level of competence in the processes and skills. In addition, the student is able to apply this knowledge and these skills to most situations.
C - The student has a sound knowledge and understanding of the main areas of content and has achieved an adequate level of competence in the processes and skills.
D - The student has a basic knowledge and understanding of the content and has achieved a limited level of competence in the processes and skills.
E - The student has an elementary knowledge and understanding in few areas of the content and has achieved very limited competence in some of the processes and skills.
It is important to note that a C grade indicates your child has a sound knowledge of the content and skills required, therefore they are meeting the requirements of their grade level. In reading your child's report we encourage you to focus on their EFFORT. At St Joseph's we encourage students to always try their best and we promote perseverance.
After reports are made available via COMPASS there will be family teacher meeting opportunities to discuss your child's report from Monday 27 June until Friday 1 July. Please email your child's teacher directly if you would like a meeting day and time.
School Tours
We are pleased to announce the following school tours for families interested in enrolling in our wonderful school. The following information has been sent out to 11 local preschools. Please pass on the information to any families you know who have a Kindergarten child for 2023.
New Curriculum - 2023
At the beginning of 2023 a new Australian curriculum will be implemented for Kindergarten, Year 1 and Year 2. This curriculum reform is a result of a Government Curriculum Review that was launched in 2018. This was the first comprehensive review of the NSW curriculum in three decades. The new curriculum will aim to build strong foundations in literacy and numeracy and focus on teaching the essentials. More detail will be provided as the year progresses and teachers at St Joseph's will soon receive professional learning on the new curriculum.
Kindergarten and Stage 3 Mass
Last Wednesday, Kindergarten and Stage 3 celebrated Mass at St Patrick's Church. It was a very special occasion as they celebrated the Feast of the Immaculate Heart of the Blessed Virgin Mary. Next Wednesday, 22 June at 9:15am, Stage 2 children will be attending Mass. All parents and carers are most welcome to join us.
Incitare
Last Friday Year 6 students went to McAuley Catholic College to participate in the Incitare Retreat. Some comments made by the students follow:
Keaira and Sophie said "It was great to see old friends and meet new people who we are going to highschool with next year."
Lily and Rachel said "We really enjoyed playing the games because it was really fun and when we got paired up with other children from other schools we were able to make new friends."
Noah and Kyle made posters for the meditation at the completion of the experience. They said "It was good as it helps us understand that we need courage to do new things so that we can have new experiences in life which helps us grow as a person."
Ty and Brendan said "It was so good working with the Year 9 and 10 students who helped lead the day and supported us sharing their story of how they connect to Jesus."
All the children agreed it was the best day.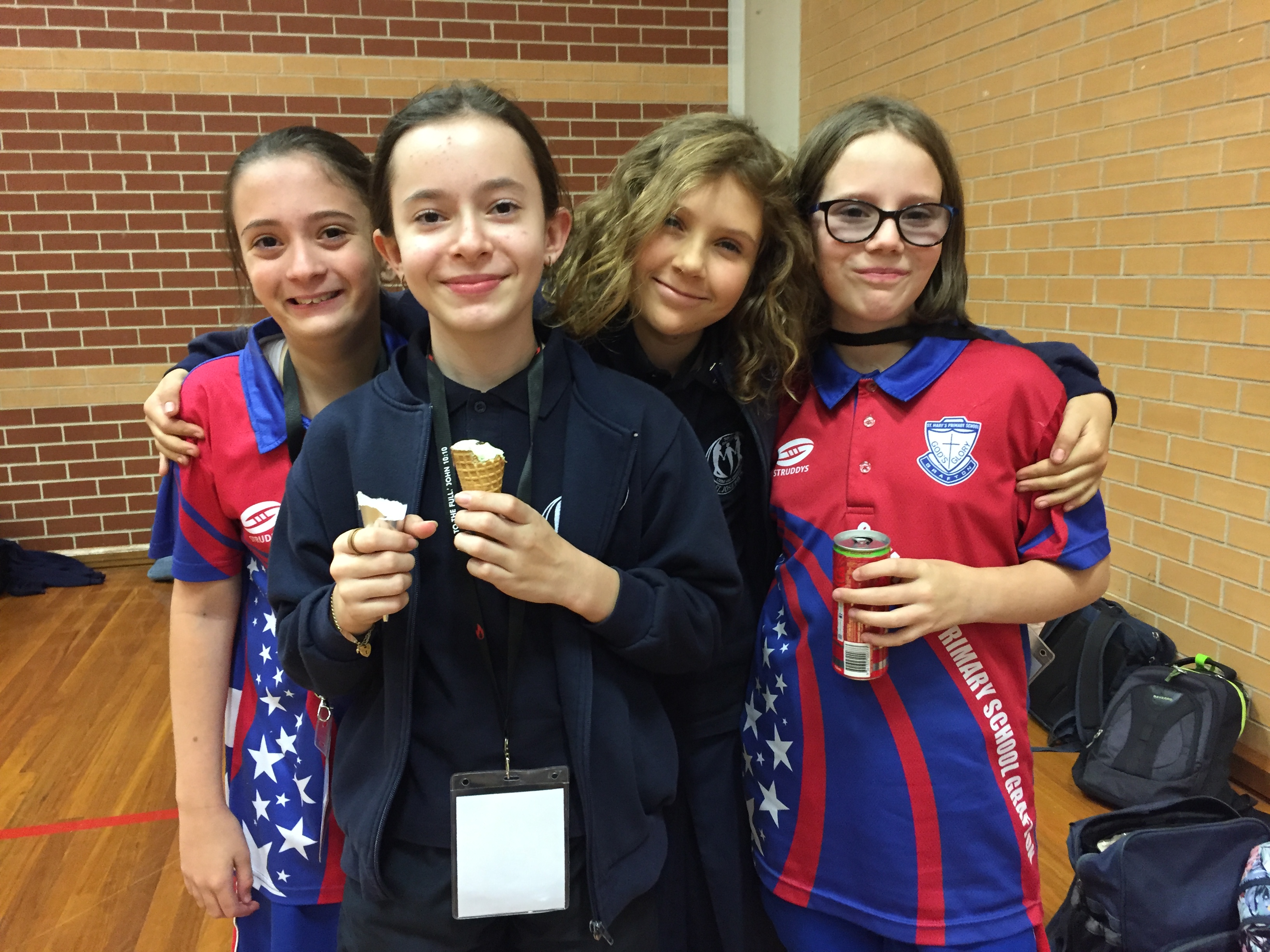 Confirmation.
A parent information session was held 0n Wednesday, 15 June at the McCarthy Centre to assist in the preparation of the children who will receive the Sacrament of Confirmation on Wednesday, 29 June. Please keep these students in your prayers as they near the completion of this program. Thomas, James, Mitchell and Noah are very excited and have been making great contributions during their lessons. Well done boys!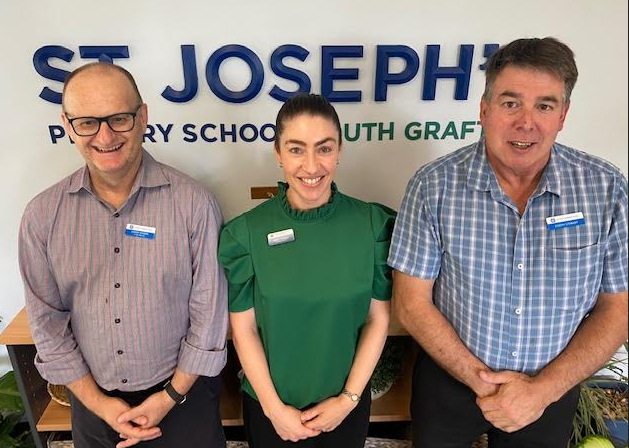 Acting Principal-Danny Rankin
Assistant Principal-Anne Forwell
Leader of Mission-Joe Stewart
K-2 Instructional Leader -Brooke Donoghue
Sport Coordinator - Emma Davis
Rescheduling of Athletics Carnival
Due to the continued extreme wet weather the decision has been made to reschedule the School Athletics Carnival to a date later in the year. This decision was made due to the continued closure of Barnier Park and the inability to mark the oval in preparation for the carnival. The new date for the carnival will be determined once we have more information on when council ovals will reopen.
Due to the Athletics carnival being a pathway event to the Clarence Zone Athletics Carnival, trials are being held at school this week for those students interested in representing the school at this event. Students who qualify to attend the Clarence Zone Athletics Carnival will be informed in Week 9.
The Clarence Zone Athletics Carnival is scheduled to take place on Wednesday, 20 July in Coffs Harbour.
Gumbaynggirr Language - Liz Hegedus
Ginnagay Ngujawiny -Hello You Mob,
Over the past week the Indigenous Australians celebrated with all Australians, 'Reconciliation Week.' We also had the opportunity to end this wonderful week on Mabo Day which is celebrated on June 3.
Eddie Mabo was born on June 29, 1936 and passed away on January 21, 1992. Eddie was an Indigenous Australian man from the Torres Strait Islands. Eddie was born in Las on Mer in the Murray group of islands, Queensland. Eddie was the fourth surviving child of Murray Islands-born parents, Robert Zesou Sambo, seaman, and his wife Annie Poipe, nee Mabo. Eddie's mother died five days after his birth and he was adopted by his maternal uncle and aunt, Benny and Maiga Mabo, in accordance with Islander customs.
Eddie led a life of being involved in Trade Union politics, a leader in Indigenous Politics, involved in the 1967 referendum to ensure a Yes vote to the lead up of his major fight. Mabo believed the traditional land owners should be recognised. That Native Title existed for all Indigenous people in Australia who held rights in their lands under their own laws and customs. Prior to assertion of British soverieignty and establisment colonies across the continent from 1788.
1982-1992 - It took ten years for Mabo and lawyers to convince the High Court that Australian land was terra nullius meaning 'Land belonging to no-one.' This paved the way for the Commonwealth Native Title Act in 1993.
Sadly Eddie died 5 months before the end result, but because of Eddie and his fight for the rights of the Aboriginal and Torres Strait Islanders, the right to get back their lands that was taken from them.
Darrundang Ngiinda - Thankyou
Miss Liz Hegedus
IEW Indigenous Educational Worker
School Notes
COMPASS - School Fees
The preferred payment method for school fees is via BPay. Scheduled payments can also be set up using BPay, the Biller Code and your personal reference number can be found on your Fee Statement.
Paying through BPay ensures that your payment goes directly into your account. Any enquireies please contact the School Office.
Fee Relief - Fee support for families affected by flooding
We understand that some families have been financially impacted by the recent flood events. In recognition of this burden, the Diocese of Lismore Catholic Schools Ltd Board has approved support to schools to provide full or partial relief [50%].
Full fee relief will be provided to families that received any Australian Government financial assistance payment relating to the 2022 floods, including either the:
Disaster Recovery Payment [property damage]

Disaster Recovery Allowance [Income]
Partial fee relief [50%] may be provided to other flood affected families at the Principal's discretion. Evidence will need to be produced of:
Extent of damage to property

Duration of loss of income

Other flood related factors as appropriate.
If you would like to request the fee relief outlined above please supply the school with the relevant evidence such as Disaster Recovery payment and a brief letter outlining your request. Fees already paid can be reimbursed or carried forward for the 2023 school year.
Please contact the School Office or Principal, Danny Rankin if you have further enquiries.
Updating Your Personal Information
Reminder to please keep your personal information ie: phone numbers, address, email addresses and emergency contacts updated to ensure you are able to be contacted and to receive up to date correspondence.
Absences
Only full day absences are to be entered into Compass, for partial absences - arriving late or leaving early please phone the School Office to notify.
Change to afternoon travel arrangements may be emailed to the school if before 12.00pm sjpgraf@lism.catholic.edu.au After 12.00pm please phone the School Office with any changes.
Winter Uniform Please label all articles of winter uniform. Already we have some brand new jumpers in the lost property bin without a name.
Cool Kids - Anxiety program This is a program for kids living with anxiety. It is hugely successful and well researched. St Joseph's will run this program in Term 3. The information night for parents is being held at St Mary's Primary. The brochure with details is below.
School Events & Dates
TERM 2
WEEK 9
Monday, 20 June at 2.15pm - School Assembly, Kindergarten Presentation in Mercy Hall
Monday, 20 June at 6.00pm - 100 Days of Learning K-2 Celebration
Wednesday 22 June 9.15am - Stage 2 Mass at St Patrick's Church
WEEK 10
Monday, 27 June at 2.15pm - School Assembly in Mercy Hall
Wednesday, 29 June - Confirmation
Friday, 1 July - End of Term 2
TERM 3
WEEK 1
Monday, 18 July - Staff Development Day (Pupil Free Day)
Tuesday, 19 July - Students return
Wednesday, 20 July - Zone Athletics Carnival
WEEK 2
Monday, 25 July at 2.15pm - School Assembly in Mercy Hall
WEEK 3
Monday, 1 August at 2.15pm - School Assembly in Mercy Hall
Merit Awards
Congratulations to the following students who received a Merit Award.
TERM 2 WEEK 7
Kindergarten
Mason, Summer, Aylee
Stage 1
Ethan, Dakota, Ruby, Lochlann
Stage 2
Lara, Xavier
Stage 3
Peter, Skye
Uniform Shop
The uniform shop is located in the BrewHouse Village.
Opening hours:
Monday - Wednesday 10.00am to 4.30pm
Thursday 10 to 3.30pm
Email: fytexptyltd@bigpond.com
Ph: 0434 025 493
Canteen
CANTEEN OPEN WEDNESDAY & FRIDAY
Volunteers are always welcome, please leave your details with our School Office.