Term 2 Week 10 2022
From our Leadership
Dear St Joseph's Community,
We are approaching the end of another busy and successful Term and we would like to acknowledge the spirit of kindness, giving, sharing, support, learning and joy that has been present in our school. May everyone have a safe and happy holiday period.
We thank you Lord, for this term.
For the challenges, the successes, and the mistakes from which we have learnt.
Be with us as we spend our time with family and friends.
Bring us back refreshed and ready for a new term.
Amen
Term Dates The last day of this Term is Friday, 1 July. The first day of Term 3 for students is Tuesday, 19 July. Monday, 18 July will be a staff development day (pupil free). On this day the teachers at St Joseph's will be learning more about how children learn Mathematics so that we can improve outcomes for all of our students.
Sacrament of Confirmation What a wonderful Wednesday evening it was. Noah, Mitchell, James and Thomas were confirmed by Bishop Gregory Homeming at St Mary's Church. They have been so enthusiastic during their preparation this term and were very excited to meet Bishop Gregory.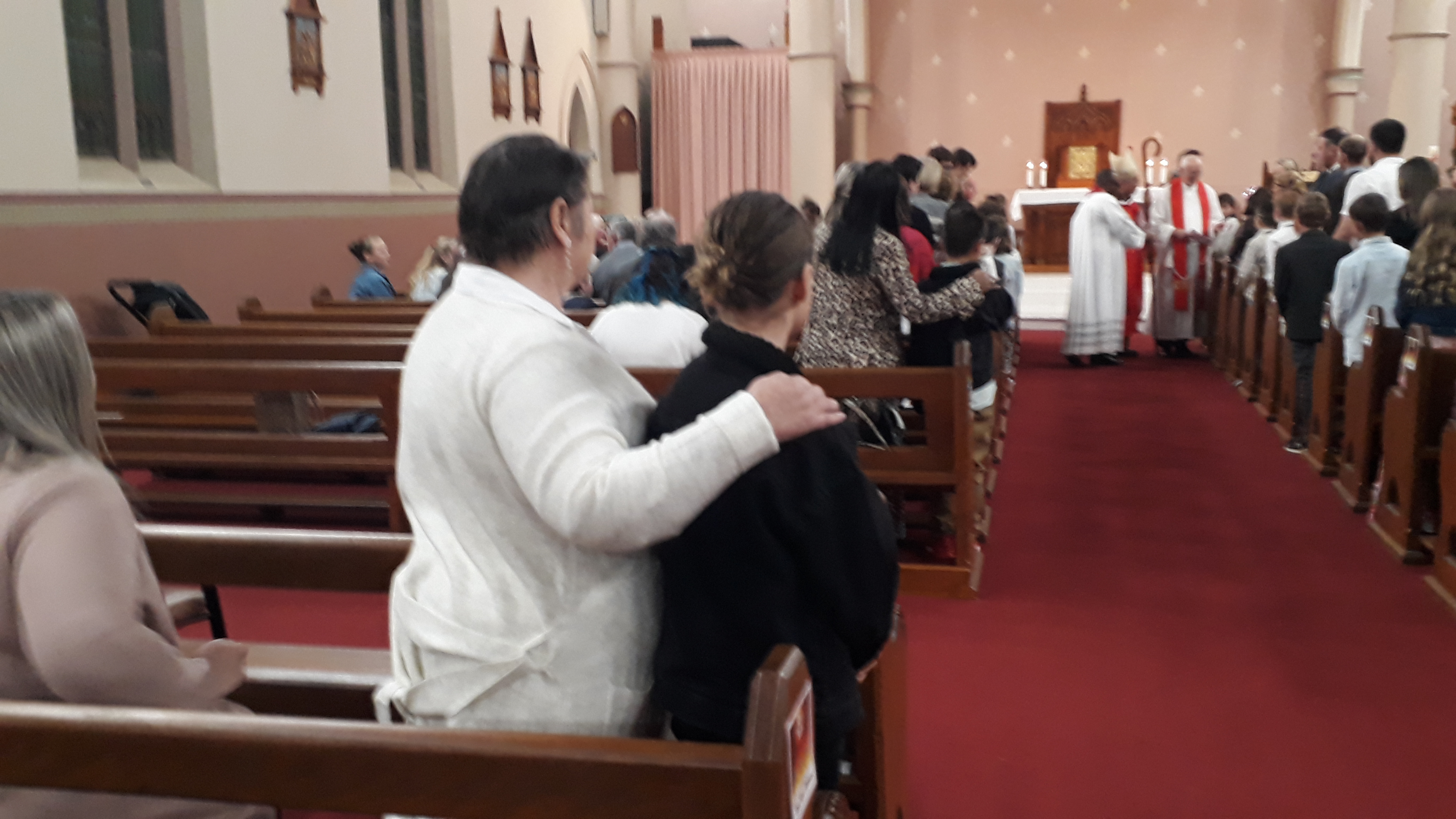 Prev
Showing images
1 - 8
of 16
Next
The children also celebrated at school cutting and sharing a cake with their classmates. We were very lucky to have Mrs Jenny Allen, the new Acting Director of Catholic Education of the Lismore Diocese attend our beautiful school, meet the candidates and congratulate them during the cake cutting ceremony.
We congratulate these children and wish them and their families well on their spiritual and faith journey.
Accendere On Thursday, 28 July Year 4 students will participate in a one day retreat.
Accendere means to: 'switch on', kindle to catch fire, light to strike, to produce/spark the flame.
During the day, children will unpack the following important Gospel message. 'And now I give you a new commandment: love one another. As I have loved you, so you must love one another. If you have love for one another, then everyone will know that you are my disciples.' John 13: 34-35 (From Year 4 Unit- 'Living The Law of Love')
They will explore the theme of Friendship and how they can be 'switched on' for their faith in a positive atmosphere. During the day, they will engage in games and activities that will promote their thinking and understanding about what makes a good friend, how did Jesus treat his friends, who is my neighbour and how to be a good friend. The day will finish with a liturgy prepared by the children and they will also have a shared lunch.
More details will be sent home to Year 4 children next term.
Sacrament of First Holy Communion.
Preparation for this Sacrament will commence early next term for eligible students who have been confirmed and are in Year 4 or above. An enrolment form for this program will be sent home next term with these children. Please don't hesitate to contact the school if you require further information. The First Communion Mass will be celebrated on Sunday, 18 September.
Stage 2 Mass.
Last Wednesday, Stage 2 went to St Patrick's Church to celebrate Mass. The children were just beautiful and so reverent throughout. After Mass, Fr Joe took the children on a tour throughout the church as he explained the importance and symbolism of many of the features of the church. The children were able to explore the Sanctuary, the Sacristy, the Stations of the Cross and were even able to access the gallery which they all agreed provided a beautiful view of the whole church.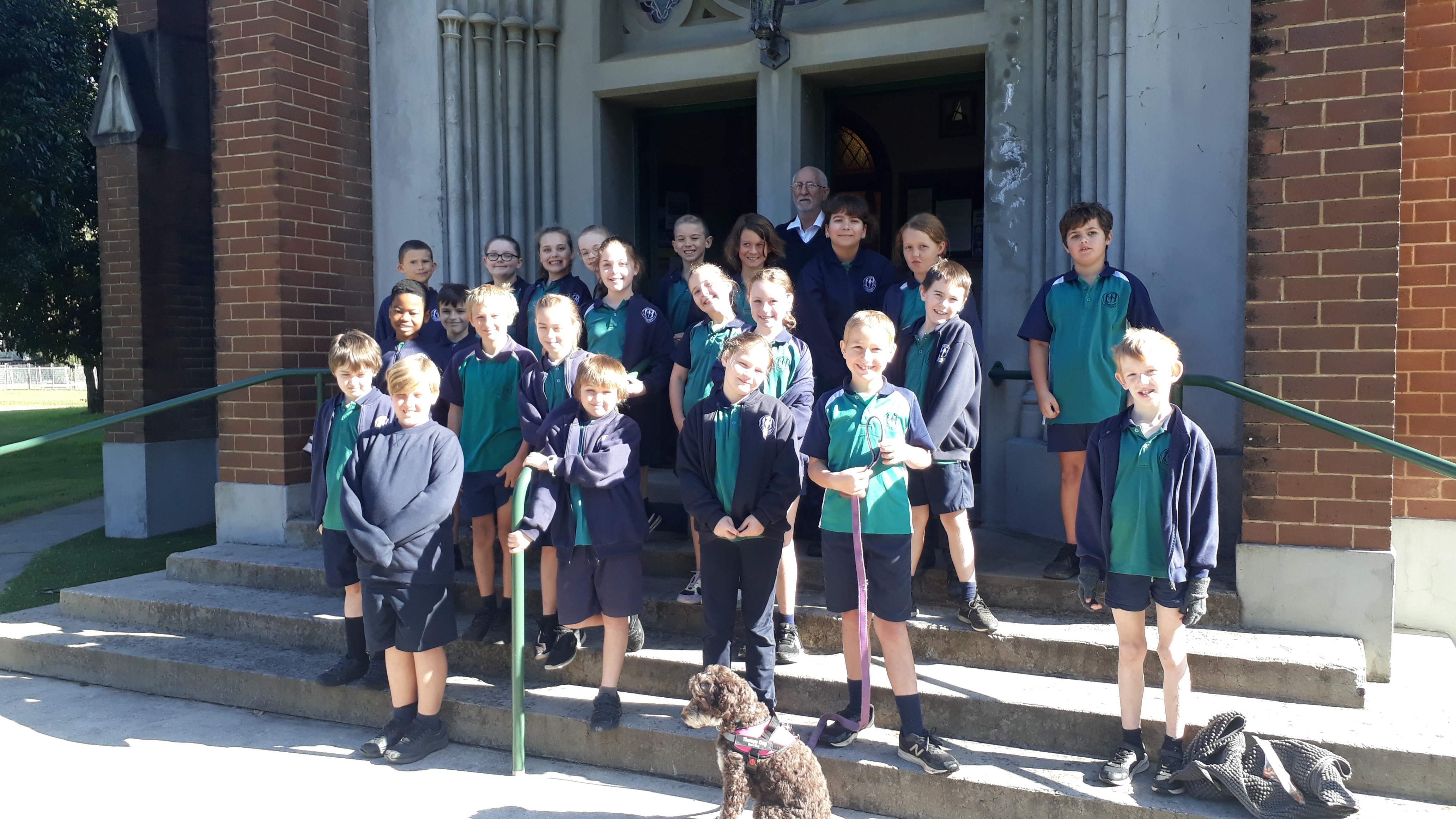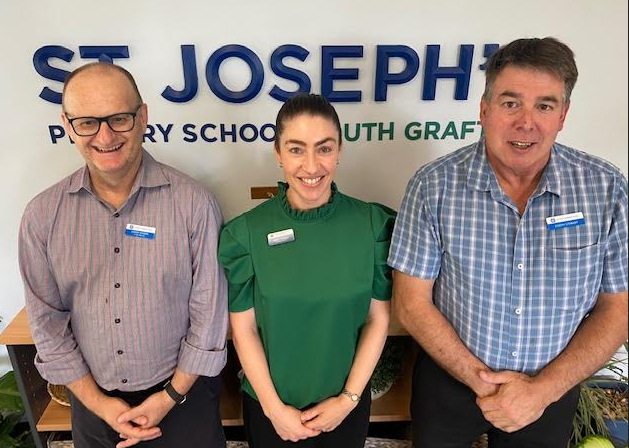 Acting Principal-Danny Rankin
Assistant Principal-Anne Forwell
Leader of Mission-Joe Stewart
K-2 Instructional Leader -Brooke Donoghue
100 Days of School Thank you to all of our families that joined us for our K-2 100 Days of School Celebration! We were thrilled to see so many families attend the evening and hope you all enjoyed the time with your children and our school community!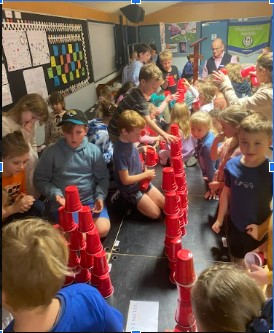 K-6 Learning Intentions and Success Criteria
Kindergarten English
Learning Intention: We are learning to listen to and write texts that share a story to entertain an audience.
Success Criteria: I can-
create my own stories to share

write from left to right

use spaces between words

start each sentence with a capital letter and finish with a full stop

write the sounds that I hear in words

use tier 2 descriptive words in my writing
Kindergarten Maths
Learning intention: We are learning to solve addition and subtraction problems.
Success Criteria: I can-
model addition

model subtraction

show my working using words, materials and drawing

explain my thinking

explain how addition and subtraction are related
Stage 1 English
Learning Intention: We are learning to draw on a range of skills and strategies to read fluently.
Success Criteria: I can
find proper nouns, common nouns and verbs

use the sound focus in my reading and writing (week 6: j, g, ge, dge. Week 7: l, ll, p, pp)

use high frequency focus words in my reading and writing

find capital letters and sentence finishers in the text

make meaning from tier 2 and tier 3 words
Learning Intention: We are learning to create an informative poster on an animal of choice to engage our peers.
Success Criteria: I can-
use the visual element 'z' layout (week 6 and 7)

draft my poster (week 6 and 7)

edit my work to include tier 2 and tier 3 words (week 7 - 9)

publish my work to share with the target audience (week 9 - 10)
Stage 1 Maths
Learning Intention: We are learning to use concrete materials to model a half, a quarter or an eighth of a collection.
Success Criteria: I can-
use concrete materials to model a half, a quarter or an eighth of a collection

recognise when a collection has been shared into halves, quarters or eighths

record equal parts of a collection, and the relationship of the parts to the whole, using pictures and the fraction notation for half , quarter and eighth

use fraction language in a variety of everyday contexts, eg the half-hour, one-quarter of the class



Stage 2 English
Learning Intention: Students can plan, compose and edit an information report so that they can explain to their classmates interesting facts and information about themselves.
Success Criteria: I can-
identify the parts of an information report-topic Statement, sub Headings with related information

choose a way to plan my text

write a topic statement

choose my sub headings and write related information

reread and edit my own work

use capital letters and full stops

create sentences that make sense
Stage 2 Mathematics
Learning Intention: We are learning to measure, order and compare objects using familiar units of capacity.
Success Criteria: I can-
explain why we need formal units to measure volume and capacity

use and record a litre and millilitre to measure volume and capacity

compare and order two or more containers based on capacity

convert between millilitres and litres
Stage 3 English
Learning Intention: Students will use comprehension strategies to understand information and ideas so that they can evaluate the intended message.
Success Criteria (using a variety of texts): I can-
summarise the key words and ideas

identify, answer and construct a literal question

identify, answer and construct an inferential question

identify, answer and construct an evaluative question

identify, answer and construct a reorganisational question
Learning Intention: We are learning to plan, draft and publish imaginative texts by choosing and experimenting with text structures and language features to entertain a specific audience.
Success Criteria: I can-
write an imaginative text to entertain a particular audience

use text structures and language features such as metaphors, similes, alliteration.... to make my writing more entertaining

structure my writing in paragraphs with an orientation, one or two problems and resolution

use correct punctuation in my writing
Stage 3 Mathematics
Learning Intention: We are learning to investigate strategies to solve problems involving addition and subtraction of fractions with the same denominator. We are learning to continue and create sequences involving whole numbers, fractions and decimals and describe the rule used to create the sequence.
Sport Coordinator - Emma Davis
Rescheduled School Athletics Carnival
The new date for the school Athletics Carnival is Tuesday, 2 August. This will be held at Barnier Park Junction Hill. More information to be provided at the beginning of Term 3.
Clarence Zone Athletics Carnival
The date of the Clarence Zone Athletics Carnival is Wednesday, 20 July. Students who have been successful in being selected for this event have been notified at school. Permission and payment for this event will be through Compass.
Gumbaynggirr Language - Liz Hegedus
Ginnagay Ngujawiny -Hello You Mob,
On 10 July during week 3 of Term 3, Australia will be celebrating NAIDOC Week. NAIDOC stands for 'National Aborigines and Islanders Day Observance Committee. Its origins can be traced to the emergence of Aboriginal groups in the 1920's. Whom sought to increase awareness in the wider community of the status and treatment of Aboriginal and Torres Strait Islander Australians.

The theme for 2022 is "Get Up! Stand Up! Show Up!"
We have a proud history of getting up, standing up and showing up. We continue the fight from our earliest Indigenous resistance fighters to keep fighting for change today. We continue to show up.
Now is our time. We cannot afford to lose momentum for change. We must continue to Get Up! Stand Up! Show Up! for systemic change and keep rallying around our mob, our Elders and our communities. Whether it's protection for our environment, cultural and heritage protection or Constitutional change, we must keep working towards the process of truth-telling, working towards treaties and calling out racism - we must do it together.
So, lets Get Up! Stand Up! Show Up! Lets continue the fight and let our voice be heard.
Darrundang Ngiinda - Thankyou
Miss Liz Hegedus
IEW Indigenous Educational Worker
School Notes
COMPASS - School Fees
The preferred payment method for school fees is via BPay. Scheduled payments can also be set up using BPay, the Biller Code and your personal reference number can be found on your Fee Statement.
Paying through BPay ensures that your payment goes directly into your account. Any enquireies please contact the School Office.
Fee Relief - Fee support for families affected by flooding
We understand that some families have been financially impacted by the recent flood events. In recognition of this burden, the Diocese of Lismore Catholic Schools Ltd Board has approved support to schools to provide full or partial relief [50%].
Full fee relief will be provided to families that received any Australian Government financial assistance payment relating to the 2022 floods, including either the:
Disaster Recovery Payment [property damage]

Disaster Recovery Allowance [Income]
Partial fee relief [50%] may be provided to other flood affected families at the Principal's discretion. Evidence will need to be produced of:
Extent of damage to property

Duration of loss of income

Other flood related factors as appropriate.
If you would like to request the fee relief outlined above please supply the school with the relevant evidence such as Disaster Recovery payment and a brief letter outlining your request. Fees already paid can be reimbursed or carried forward for the 2023 school year.
Please contact the School Office or Principal, Danny Rankin if you have further enquiries.
Updating Your Personal Information
Reminder to please keep your personal information ie: phone numbers, address, email addresses and emergency contacts updated to ensure you are able to be contacted and to receive up to date correspondence.
Absences
Only full day absences are to be entered into Compass, for partial absences - arriving late or leaving early please phone the School Office to notify.
Change to afternoon travel arrangements may be emailed to the school if before 12.00pm sjpgraf@lism.catholic.edu.au After 12.00pm please phone the School Office with any changes.
Winter Uniform Please label all articles of winter uniform. Already we have some brand new jumpers in the lost property bin without a name.
School Events & Dates
TERM 2
Friday, 1 July - Last day of Term 2
TERM 3
WEEK 1
Monday, 18 July - Staff Development Day (Pupil Free Day)
Tuesday, 19 July - Students return
Wednesday, 20 July - Zone Athletics Carnival
WEEK 2
Monday, 25 July at 2.15pm - School Assembly in Mercy Hall
WEEK 3
Monday, 1 August at 2.15pm - School Assembly in Mercy Hall
Tuesday, 2 August - Athletics Carnival at Barnier Park, Junction hill
Tuesday, 2 August 6.00pm - 7.00pm- Parent Forum
Merit Awards
Congratulations to the following students who received a Merit Award.
TERM 2 WEEK 9
Kindergarten
Emily, Ashton
Stage 1
Nate, Byron, Tyler, Mason, William
Stage 2
Mitchell, Heidi,
Stage 3
Noah, Thomas
TERM 2 WEEK 10
Kindergarten
Aprille
Stage 1
Max, Rubin F
Stage 2
Mitchell, Isla, Bonnie
Stage 3
Rose, Jackson
Uniform Shop
The uniform shop is located in the BrewHouse Village.
Opening hours:
Monday - Wednesday 10.00am to 4.30pm
Thursday 10 to 3.30pm
Email: fytexptyltd@bigpond.com
Ph: 0434 025 493
Canteen
CANTEEN OPEN WEDNESDAY & FRIDAY
Volunteers are always welcome, please leave your details with our School Office.