Term 1 Week 4
Principal's Message
Dear Parents and Carers,
This week brings us all good news. We have had a significant grant approved to refurbish all the classrooms! The exact amount is yet to be confirmed but it will be sufficient to completely upgrade every learning area. Plans will be shared very soon.
The focus for my message to you this week is all about you, the carers and parents. We have three initiatives which will assist us in giving you opportunities for more involvement at St Joseph's.
We are still restricted in the contact we can have with you during school hours, but opportunities will be available outside these times.
Community Conversations -

We will have a visiting speaker at our next P&F meeting (in week 8) who will walk us through a process so that you can have a say in the future vision for the school. Please come along to this meeting to give your opinion.



Parent Walks - W

e will be scheduling an afternoon session so that you can come and see Walker Learning in Progress. We will have this event over a number of days to give those of you with more than one child, the opportunity to visit multiple classrooms.

Parent Partnership Sessions - T

wo nights where you can sit with your child and help them plan and edit their writing.
More information will follow on these great opportunities.
With every good wish, Lee Denton
Assistant Principal-Anne Forwell
Walker Learning
What is the role of the focus child?
If your child is in Kindergarten or Stage 1 you may have heard them talk excitedly about being the focus child. Every child is rostered to be the focus child for a whole day once a fortnight. The focus children stand or sit at the front of the class during the tuning in at the start of the lesson and reflection components at the end, the teacher discusses their interests and learning. The focus child spends special time with the teacher during investigations and reports back to the class about what they discovered, noticed or learned.
K-2 Instructional Leader-Larissa Deleiuen
Learning Environments
At St Joseph's we pride ourselves on our engaging and adaptive learning environments that are inclusive, responsive, intentional and interconnected. Our learning environments allow all students to thrive and feel respected in a safe, supportive and nurturing community. We are well resourced in ways which enable pedagogy and curriculum to meet the needs of all our students. Stimulating environments, especially our Walker Learning areas, empower students to be active and engaged participants in their learning, enabling creativity, innovation, collaboration and resourcefulness.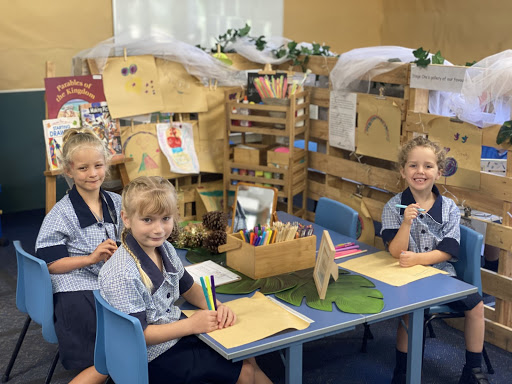 Leader of Evangelisation-Donna Bancroft
St Joseph as Patron of the Universal Church
WITH A FATHER'S HEART: that is how Joseph loved Jesus, whom all four Gospels refer to as "the son of Joseph".
Matthew and Luke, the two Evangelists who speak most of Joseph, tell us very little, yet enough for us to appreciate what sort of father he was, and the mission entrusted to him by God's providence.
We know that Joseph was a lowly carpenter (cf. Mt 13:55), betrothed to Mary (cf. Mt 1:18; Lk 1:27). He was a "just man" (Mt 1:19), ever ready to carry out God's will as revealed to him in the Law (cf. Lk 2:22.27.39) and through four dreams (cf. Mt 1:20; 2:13.19.22). After a long and tiring journey from Nazareth to Bethlehem, he beheld the birth of the Messiah in a stable, since "there was no place for them" elsewhere (cf. Lk 2:7). He witnessed the adoration of the shepherds (cf. Lk 2:8-20) and the Magi (cf. Mt 2:1-12), who represented respectively the people of Israel and the pagan peoples.
(Excerpt from the Apostolic Letter 'Patris corde', Pope Francis, 2020, para. 1-3)
Sport Coordinator-Emma Davis
Zone Swimming Carnival
Congratulations to all students who attended the Clarence zone swimming carnival in Maclean on 11 February. All students represented the school with pride and excellent sportsmanship.
Diocesan Swimming Representative
Congratulations to Isabelle Pye who placed second in the 11 Year Girls 50m backstroke event at the zone swimming carnival. Isabelle will now go on to represent the school at the Lismore Diocesan Swimming Carnival in Murwillumbah on Friday 26 February. Good luck Isabelle, we know you will represent the school with pride.
Clarence Zone Winter Sports Trials
Good luck to Thomas Awbery, Archie Steel, Nicholas Beard and Kyle McCann who will represent our school at the Clarence Zone Winter Sports Trials at Woolgoolga on Wednesday 24 February. Thomas, Kyle and Nicholas will be trialing for soccer and Archie will be trialing for rugby league.
School Swimming Carnival
Ribbons, age champions and house winners will be announced at the school assembly on Monday 22 February. These results will be published in next week's newsletter.
Librarian / Book Club Coordinator- Anna Smidt
Library Monitors Welcome back to library news for 2021. I'd like to begin by introducing the new Library Monitors for the year. They're already off to a great start helping to make the library a beautiful place to be.
Kyra Kyra loves books, maths and animals. Kyra is kind and caring. Kyra loves being in the library and is there to help if you need it.
Ivy Ivy loves to read. She enjoys comics and her favourite colour is pink. Ivy is always happy and kind and loves to help people so if you need a hand in the library, look out for Ivy.
Book Club The catalogue for Issue 1 was sent home last week. If you would like to place an order please send it in to school by Friday, 20 February.
Don't forget you may also order online if you would prefer.
Gumbaynggirr Language-Liz Hegedus
Giinagay -Hello You Mob,
Throughout the year, there are many major important dates and events that are very important to the Indigenous people of Australia.
On 11 December, 2007 the newly installed Labour government moved a motion to make an apology to the Indigenous Australians for 'The Stolen Generation.'
This month on 13 February, marks the events of the anniversary of former Prime Minister Mr Kevin Rudd's 'Apology Speech'. The apology was the new parliament's first order of business. His apology was a formal apology on behalf of the successive parliaments and governments whose policies and laws "inflicted profound grief, suffering and loss on these our fellow Australians".
The National Apology was an historic acknowledgement of all the wrongs done to the Stolen Generations. It was a significant step towards building a respectful new relationship between Indigenous and non-Indigenous Australians. The impact of the Apology is evidence of the importance of historical acceptance. Historical acceptance is not just about accepting and understanding our shared history and its ongoing impacts – it's about making sure that Australia does what is necessary to ensure past wrongs are never repeated.
So, it starts with us. We as parents have to ensure we teach our younger generation on how to be accepting of all cultural differences. We live in one world with many different countries, let's enjoy and accept each other.
This is the link to Prime Minister Kevin Rudd's 'Apology Speech'. https://youtu.be/MDvome0bCXs
School Office
Sign in Procedure for Parents & Visitors
Please note our school has a new sign in procedure for anyone visiting St Joseph's. The sign in device which has a QR code is located in the school office.
This sign in procedure is governed by the Catholic Schools Office and NSW Department of Health.
Thank you in advance for your cooperation.
School Events & Dates
WEEK 5
Parent / Teacher Meetings all week

Tuesday 23 February - P & F Meeting 5.30pm-6.30pm
WEEK 6
Friday 5 March - Year 6 Incitare at McAuley Catholic College

WEEK 7
Tuesday 9 March - Soccer Gala Day Stage 2 & Stage 3
Canteen Roster