Term 2 Week 8, 2023
From our Leadership
Welcome
Dear St Joseph's Community,
Recently the Catholic Church celebrated the festival of Pentecost. Thus, Pentecost is often seen as the birth of the Christian Church and the beginning of its mission to spread the teachings of Jesus to all nations.
This celebration is also the spark for the grace that is the Sacrament of Confirmation. We keep our candidates in our prayers. So, together we pray:
Holy Spirit, fill us with your presence and renew our hearts. Inspire us with your wisdom, so we may understand your teachings and follow them faithfully. Grant us courage and boldness to share the good news of Jesus Christ with others. Amen.
We say goodbye and thanks
The Sinclair family are leaving us for more frosty surroundings. We will miss Jhett and Nate and wish them every happiness and success into the future.
Welcome
We welcome new students La'Keesha, Audley, Queneysha and their family to our St Joseph's school community.
Semester 1 Reports and Family Teacher Interviews
A reminder that your child's Semester 1 Report will be made available via COMPASS on Friday, 23 June. Please ensure you have the COMPASS app for our school downloaded.
It is important to note that a C grade, or sound level of achievement, indicates your child is meeting the requirements of their grade level. When reading your child's report we encourage you to focus on their EFFORT. At St Joseph's we encourage students to always try their best and we promote perseverance.
After receiving your child's report please contact their classroom teachers if you would like a family teacher meeting.
Parent Forum News - School Uniform change
As previously mentioned we will be changing our uniform for the 2023 school year. Three designs were shared with parents at the meeting. Two of these designs will be shared with you in the next newsletter for your decision. A process is being developed to capture which uniform is preferred of the two. Students will also have the same process. A copy of the meeting minutes are available upon request from the office.
School Improvement - Ghost Walks
We have been continuing our work with Dr Lyn Sharratt to achieve our 2023 school improvement goal, that is, to ensure that all students are achieving the writing expectations for their grade level.
As another step to achieving this we have implemented ghost walks. With the support of the Catholic Schools Office, all teachers visited each classroom after school and 'read the walls'. The ghost walk allowed us to see how our school was going with the implementation of Learning Intentions and Success Criteria as well as charts and visual learning supports for our students to assist them to improve in writing. The walls of each classroom are considered as the 'third teacher' because they should be a place students can go to for help and to see how they can improve. Our teachers are continually working on the development of the 'the third teacher' as a way to support our students.
What is the Third Teacher?
After parents and teachers, the classroom environment is the Third Teacher. The learning space becomes a strategic tool in promoting creativity, originality, perseverance, risk taking, learning from mistakes, problem solving, resolving conflict, collaboration, and critical thinking. Careful consideration and co-construction of the Third Teacher is extraordinarily important. A heightened sense of ownership results when teachers and students co-construct the learning environment. Classroom walls that become interactive learning spaces and show evidence of use, move from being "pretty" to being "pretty useful" so students can refer to them when 'stuck'. They are environments that promote curiosity, wondering, thinking, questioning, inclusivity and risk taking - welcoming environments that invite students to take risks, fail fast, and feel safe to think out loud.
Our 'third teacher' has been co-constructed in Stage 1 which includes a Learning Intention, Success Criteria and 'Anchor Charts' which are co-constructed posters of examples of each of the success criteria.
Students co-constructed an 'anchor chart' for the 'Third Teacher' in Stage 1 to assist them to remember what is needed when writing with 'dialogue', which is one of their success criteria points.
The Third Teacher in Stage 2
Whole School 'Cold Write'
On Tuesday, our whole school engaged in writing a text of their choice using the stimulus of 'The Melted Snowman', which was positioned in our school playground.
In our planning meeting next week, we will use the writing samplex to establish new learning goals for EVERY student and adapt our units of work to reflect these goals.
New K-2 English Syllabus. Supporting your K-2 Child at Home: Phonics
Principal-Danny Rankin
Assistant Principal-Anne Forwell
Leader of Learning - Brooke Donoghue
Sport Coordinator - Caitlin Crispin
Congratulations to all students who participated in the School Athletics Carnival last Wednesday, at Barnier Park. It was fantastic to see so many students having a great time and showing sportsmanship towards their fellow peers.
A big thank you to all staff, Mrs Tait and her family for all their hard work and helping make the carnival a great day for the students.
Ribbons will be handed out and Age Champions announced at our next assembly on Monday, 26 June at 2:15pm.
The Zone Athletics Carnival will be held on Thursday, 29 June at Coffs Harbour. The bus will be departing school at 7:30am for a 9.00am start. The day will conclude at 2:45pm and we are hoping to return to school by 4.00pm.
If you would like a copy of the Zone Carnival program please contact Mrs Crispin by email. caitlin.crispin@lism.catholic.edu.au
Gumbaynggirr Language - Liz Hegedus
Ginnagay Ngujawiny -Hello You Mob,
Last week, we had special visitors from 'Land Care' come to our school and teach us all about Koalas.
As you know we have beautiful bush land surrounding our school and there have been many reports of koalas living in the area. Land care came to our school and spoke to our Indigenous students and the visiting students from Gillwinga Primary School.
Michael Kennedy, an indigenous staff member working with Land Care, taught us all about the koalas from an indigenous perspective. Michael told us the 'Gumbaynggirr word for koala is 'Dunggiirr' and the dreamtime story is 'Koalas and the Dreaming'.
With more than 250 First Nations across the continent, each having their own customs and culture, it is no wonder koalas feature in numerous Dreaming stories.

A creation story from the Gumbaynggir people of the Mid North Coast of NSW is Dunggirr Gagu (The Koala Brother's) story. It's a story about rising seas isolating the Ngambaa people. They were saved by the Dunggir Gagu that used their long intestines to make a bridge back to the mainland.

Koalas are also tied to Mount Yarrahapinni in the Yarriabini National Park, about 40 minutes north of Kempsey. A culturally significant place for the Gumbaynggirr, Dunghutti and Ngambaa nations. Yarriabini mean 'koala rolling'.
We also had the opportunity to go out into the bush and observe the area for any koalas. The students had to pick out the correct tree, was there any evidence of a koala by scratching on the trunk or any droppings around the tree trunk. We found out lots of information about koalas. For instance, koalas breed only in the spring and summer. Male koalas call to attract mates and defend their territory and female koalas breed from the age of 3 and only have one joey a year.
A joey koala is born in summer and is the size of a jelly bean. It has no hair, no ears and is blind. The joey also stays in the pouch for 6 months. The joey is then weaned from its mum from 1 year of age. Koalas live between 10 and 20 years. Koalas can sleep up to 22 hours a day, then when awake, they do a lot of eating. They can eat up to 1kg of gum leaves a night. Koalas are great climbers and have very powerful arms and legs. Koalas are arboreal (tree dwelling) mammals, however they do climb down to the ground to move between trees.
The koala's paws are specially adapted for gripping and climbing. They have rough pads on their palms and soles to help grip tree trunks and branches, and both front and hind paws have long sharp claws. Most recently they have discovered that koalas have finger prints almost identical to ours.
We also discovered, yes koalas do drink water when they are thirsty. So, when it rains and the water is running down the tree trunk, they lick the water off of the trunk.
The students had a great time learning all about koalas and where they live and what we should do if we spot one. I would also like to congradulate the Indigenous students for their willingness to learn and their behaviour. They made me, Mr Rankin and our school very proud. I have no doubt we have some up can coming leaders in our future. Well done!
Darrundang Ngiinda - Thankyou Miss Liz Hegedus IEW Indigenous Educational Worker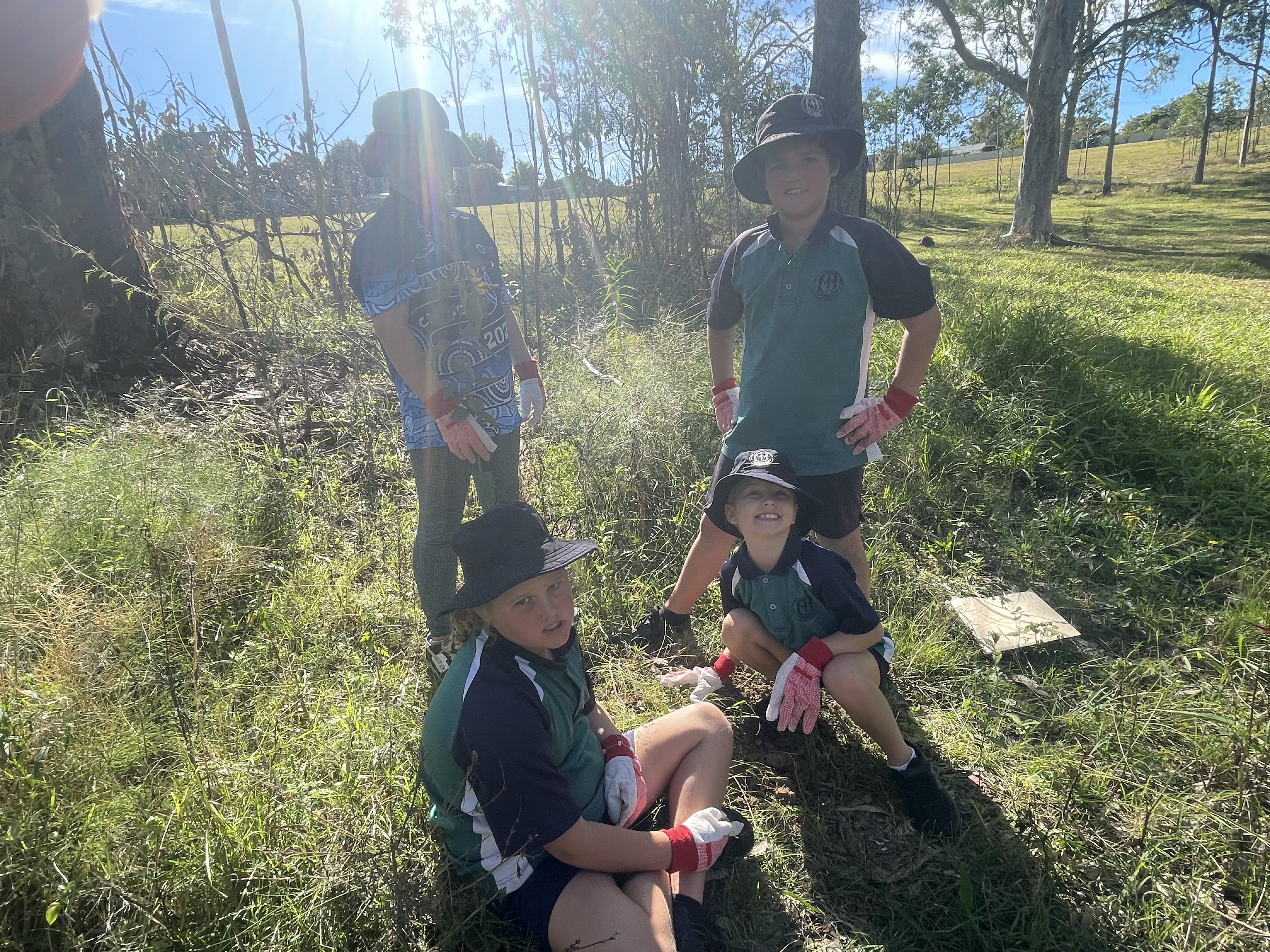 School Notes
MEDICATION
Under the Catholic Schools Office guidelines all medication being supplied to the school for students, NEEDS to be brought to the School offfice and signed in by parents or carers. It also needs to be in it's original box.
CANTEEN
Our Canteen is in urgent need of volunteers to assist on Friday's. Please contact the School Office on 6642 2899 if you are available.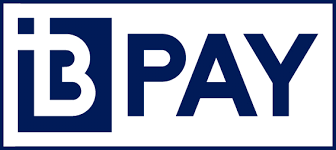 SCHOOL FEES
Thank you to those families who have made the change from Direct Debit to BPay for fee payments. BPay is the preferred payment method for school fees. Scheduled payments can also be set up using BPay, the Biller Code and your personal reference number can be found on your Fee Statement.
Paying through BPay ensures that your payment goes directly to your account. Any enquireies please contact the School Office.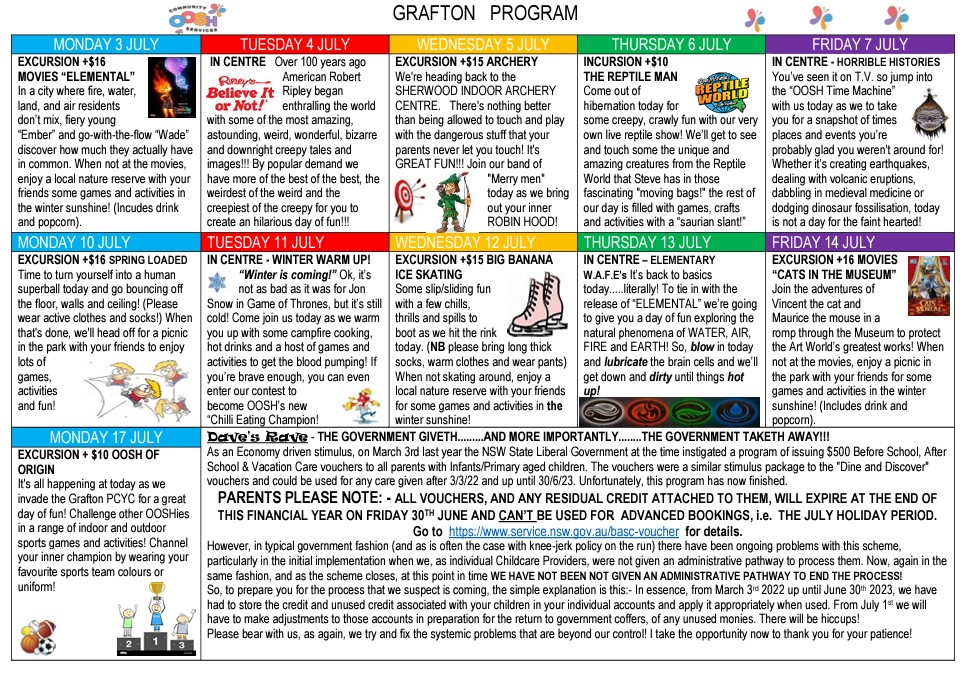 FAMILY CONNECT
A Message from Skye Pullen our Family Connect Worker
A reminder that if you haven't already redeemed your Creative Kids Voucher for 2023, it will expire at the end of this month. That means if you redeem your voucher now, it could still be used for an activity occurring after 1 July if it is applied before 30 June. The $100 vouchers can be used to contribute to registration, participation and tuition costs for performing arts, visual arts, coding, languages, literature, music and other creative and cultural activities with approved activity providers. There are dozens of providers in the Clarence Valley. Research has shown that children's engagement with creative activities has positive effects on their interpersonal, intellectual, social and emotional development. Look out for school holiday activities too, such as at the art gallery. To find a provider or to claim the vouchers follow the link below.
https://www.service.nsw.gov.au/creative-kids
If you would like any assistance to access vouchers or to find out about other support available, please contact our Family Connect in Schools worker, Skye Pullen on 0417 004 779.
School Calendar
TERM 2 2023
Week 9
Friday, 23 June - Confirmation
Week 10
Monday, 26 June - School Assembly 2.15pm
Thursday, 29 June - Zone Athletics Carnival at Coffs Harbour
Thursday, 29 June - Last day of Term 2 for students
Friday, 30 June - Staff Development Day
TERM 3 2023
Week 1
Monday, 17 July - Sudents return for Term 3
Week 2
Monday, 24 July - School Assembly 2.15pm
Week 3
Tuesday, 1 August - Parent Forum Meeting 6.00pm
Week 4
Monday, 7 August - School Assembly 2.15pm
Week 5
Tuesday, 15 August - Diocesan Athletics
Week 6
Monday, 21 August - School Assembly
Friday, 25 August- School Photo Day
Uniform Shop
The uniform shop is located in the Brewhouse Village.
Opening hours:
Monday - Wednesday 10.00am to 4.30pm
Thursday 10 to 3.30pm
Email: fytexptyltd@bigpond.com
Ph: 0434 025 493
Canteen
Canteen
Open every Wednesday and Friday
Volunteers always welcome, please leave your details with the School office if you're able to assist.